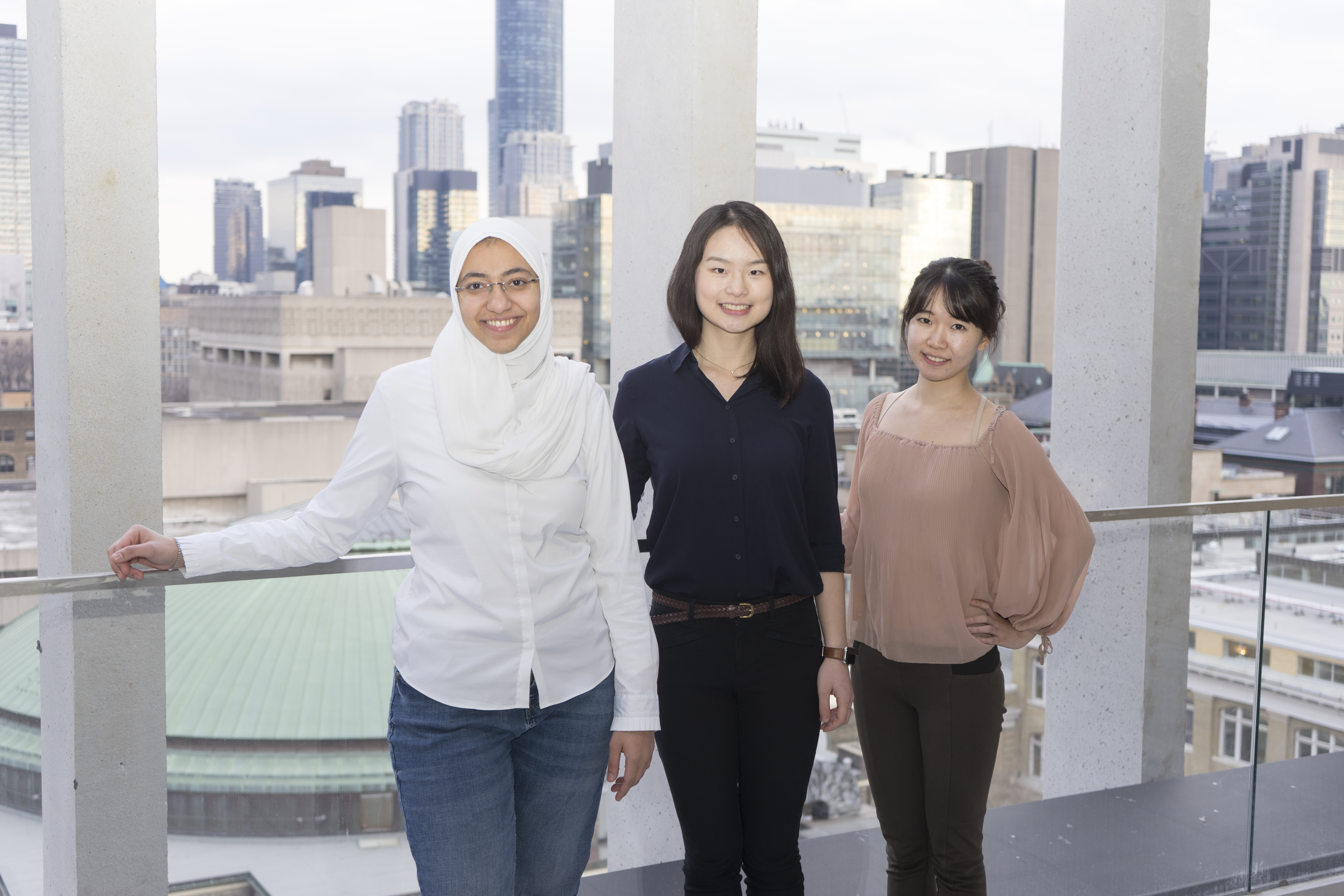 December 13, 2018
Three graduate students from The Edward S. Rogers Sr. Department of Electrical & Computer Engineering (ECE) are among 66 master's students to receive Vector Scholarships in Artificial Intelligence (VSAI) by the Vector Institute.
The Vector Institute aims to support Ontario's growing artificial intelligence (AI) ecosystem, in part, by helping to increase enrolment and the number of graduates from AI-related master's programs. The VSAI are worth $17,500 and Vector scholars are invited to various networking and professional development events at the Institute throughout the year.
Under the supervision of Professor Baochun Li (ECE), Salma Emara (MASc candidate) is exploring how machine learning techniques can be applied to solve some fundamental challenges related to congestion control in networks. "Congestion happens when there is more data in the network than can be processed without delays or loss of data," says Emara. "I plan to use artificial intelligence to help control congestion in the network."
While Emara is using AI to improve networks, other students are looking at ways to improve AI. Many AI-related workloads are extremely compute-intensive, so Xiaodan (Serina) Tan (MASc candidate) is looking at how to efficiently map AI applications onto hardware accelerators, such as a graphics processing unit (GPU), to extract the maximum compute power available. Under the supervision of Professor Gennady Pekhimenko, who is cross-appointed to the Department of Computer Science, Tan's goal is to enable computing-resource sharing on a GPU among multiple virtual machines in a cloud-computing environment.
With the proliferation of AI and machine learning techniques, one emerging challenge is ensuring these models are robust and safe from attackers. Yan Fu (MASc candidate) is working with her supervisor, Professor Ashish Khisti (ECE), to explore solutions. "The Vector Scholarship in Artificial Intelligence will enable me to focus on really interesting research challenges," says Fu. "For example, we know that one way to improve the robustness of machine learning models is to apply what's called an inversion regularizer method — but limitations in memory make it difficult to apply this method to large machine learning models."
Current machine learning models are vulnerable to hacking, where attackers can exploit the model to gain access to sensitive information of the dataset. Fu is focusing on making machine learning models resilient to these attacks.
The inaugural cohort of Vector scholars was celebrated at a lunch hosted by the Canadian Club on Dec. 13 where Ed Clark, Chair of the Vector Institute delivered a speech on the progress and potential of Canada's AI strategy.
More information:
Jessica MacInnis
Senior Communications Officer
The Edward S. Rogers Sr. Department of Electrical & Computer Engineering
416-978-7997; jessica.macinnis@utoronto.ca