Stay up-to-date on the latest research underway in ECE with SkuleTalks—short videos that keep ECE alumni current on the big questions in fields from wearable tech to smart-grid security and more. Whether you've just graduated or haven't designed a circuit in 30 years, stress-free SkuleTalks are an accessible way to catch up on the ideas that matter to today's leading engineering thinkers.
Professor Milos Popovic

Neuroplasticity: Overcoming Paralysis Using Neuroprostheses
Professor Milos Popovic speaks about neuromodulation, whereby implanted electrical devices stimulate areas of the nervous system to relieve symptoms and treat complex neurological disorders. In this talk, Popovic speaks about a neuroprosthetic application that is aimed at restoring voluntary hand function after severe stroke and spinal code injury — and how electrical and computer engineers can help to tackle some of medicine's most difficult neurological challenges.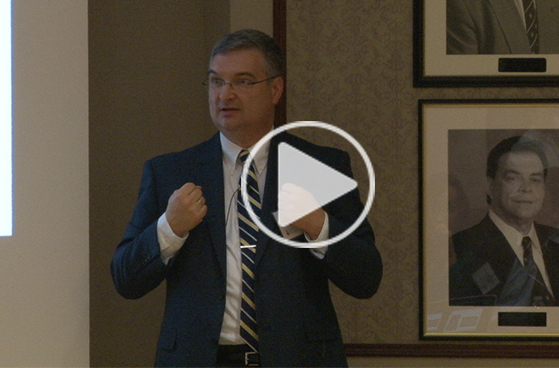 Professor Jonathan Rose
Creative Applications for Mobile Devices

Professor Rose talks about the explosion of creativity made possible by the computers we all carry around in our pockets. His interdisciplinary work on unexpected applications for smartphones and tablets solves problems in a huge range of fields-from treating addiction and mental illness, to improving the classroom experience for easily distracted students, and testing your eyes for macular degeneration at home.

> Transcript of Jonathan Rose's SkuleTalk
Professor Deepa Kundur
Cyber-Physical Security

Systems we rely on every day, from banking to power generation and distribution, are getting 'smarter'—but introducing this extra layer of connectivity is not without risk. Professor Kundur discusses the security weaknesses that emerge when our physical infrastructure becomes cyber-enabled, and what we can do to protect it. Her research models complex systems and aims to identify potential security flaws before they cause a crisis.

> Transcript of Deepa Kundur's SkuleTalk
Bobby John
Building Something from Nothing

Software entrepreneur and ECE alumnus Bobby John talks about how as a fourth-year student, he and a few friends created an enterprise with $1 million in business, using just their brains and computers at home. Since then he's gone serial, founding four companies including his latest, Band of Coders. Hear his story.

> Transcript of Bobby John's SkuleTalk
Professor Steve Mann
Wearable Computing, Alethiometric, and Actional Systems

ECE Professor Steve Mann, widely recognized as the father of wearable computing, speaks about the evolution of his EyeTap digital glass system, which he designed and built decades before wearable computing entered the mainstream. Mann shares lessons learned from 35 years at the leading edge of wearable computing and augmediated reality, and gives a glimpse of his three new research directions.

> Transcript of Steve Mann's SkuleTalk