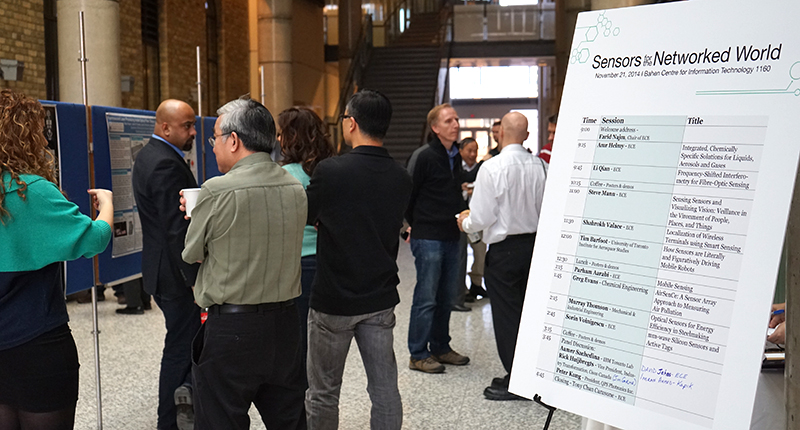 November 21, 2014
What if diabetics could test their blood sugar without taking any blood? Future non-invasive sensors could identify molecules in your blood using the light already built into the phone—that's the class of technology Professor Amr Helmy hopes his research will enable. Current state of the art requires a priori knowledge of which molecules to search for—Professor Helmy hopes that by increasing the sensitivity of optical sensing devices, he's moving toward sensors that can chemically analyze liquids, gasses and aerosols, in a package that can be integrated into a smartphone.
"Sensitivities are very commercially relevant at this point in time," Professor Helmy told the audience at Sensors for the Networked World, a one-day interdisciplinary workshop hosted by The Edward S. Rogers Sr. Department of Electrical & Computer Engineering. The event assembled thought-leaders along the complete technology pipeline, from the researchers investigating how to design, fabricate, and interconnect new sensors, to those with emerging applications for them.
The program featured speakers and panelists from across U of T Engineering and industry. Attendees listened to speakers, heard about leading-edge ongoing research from poster presenters, and concluded their day with a panel on the topic of innovative directions for sensors in both academia and industry. The panelists were Imran Ahmed of Kapik, Jim Grimes of Cisco Canada, Professor David Johns of ECE, Peter Kung of QPS Photronics Inc. and Aamer Sachedina of IBM Toronto Lab. The conversation was moderated by Professor Helmy.
"The Internet of Things is coming rapidly toward us," predicted Professor Johns.

The conversation turned towards whether research and entrepreneurship is underdeveloped in Canada as compared to the United States. "I think the future's not going to be in big companies," said Professor Johns. "I think a lot of people are going to be employed in companies of maybe 10-15 people."
"I don't think the problem in Canada is what's coming out of the education system—we've got some of the brightest minds in the world," said Jim Grimes of Cisco Canada. "But we've got to build a better ecosystem from cradle to success…but it will happen and it's starting to change. I'm confident about our future."
This event was the second in a series of one-day interdisciplinary workshops on topics of broad benefit to society and industry. The first conference was held in July 2014 on the topic of Big Data.
More information:
Marit Mitchell
Senior Communications Officer
The Edward S. Rogers Sr. Department of Electrical & Computer Engineering
416-978-7997; marit.mitchell@utoronto.ca