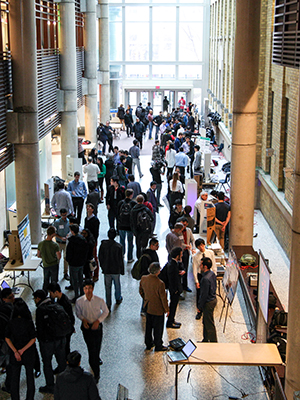 April 7, 2014
More than 75 student projects knocked the socks off attendees at Design Fair 2014, hosted by The Edward S. Rogers Sr. Department of Electrical & Computer Engineering. Over the course of three days, fourth-year undergraduate students studying electrical and computer engineering showed off projects ranging from apps that take some of the pain out of childhood cancer treatment, to solutions for identifying flaws in the power grid to avert blackouts. The top 20 projects were chosen to advance to the grand finale, a Design Showcase in the atrium of the Bahen Centre for Information Technology on Friday, April 4.
Nikhil Goyal, Dhaval Miyani and Jyoti Tripathi (all CompE 1T4) designed a program to help surgeons identify lesions and polyps during endoscopic surgery. (See their video – warning: graphic surgery content). Using machine-learning techniques, their image-processing platform identified anomalies in real time, making it much easier for surgeons exhausted during long operations to make sure they catch anything unusual.
"We worked on this project in collaboration with two researchers at St. Michael's Hospital here in Toronto," said Goyal. "It was exciting to work on something that has a real application, and get feedback on that."
Lightweight drones could deliver your mail or drop medical supplies into disaster zones, if not for their limited battery life. Kevin Lee (ElecE 1T4), Zerzar Bukhari (ElecE 1T4), Sachin Siby (CompE 1T4) and Pranoy De (ElecE 1T4) tackled that challenge by creating SPARQ, an autonomous charging station for quadcopters. When batteries run low, quadcopters can home in on the nearest charging station, automatically navigating its entry point and touching down to charge. (Watch SPARQ's video).
Want the lights in your creepy basement to turn on when you start down the stairs? Sumbul Alvi (CompE 1T4), Sumit Kumar (ElecE 1T4) and Edmund Phung (ElecE 1T4) designed a home automation system that lets you control your home—including lights, appliances, temperature and more—from your mobile phone. Reconfigurable sensors can operate independently, or be connected together so that your kettle turns on when you flip on the bedroom light.
"Lots of people have now heard about smart home control systems, such as Google's Nest," said Alvi. "We wanted to create something a little easier to use, that you can change around without having to rewire anything within your walls."
"The quality of projects this year was extremely high," said ECE Professor Khoman Phang, one of the course coordinators. "I'm always so impressed and inspired by the creativity and ingenuity of our students, and all they accomplish over the course of the year."
Morgan Hoffman, host of the show InnerSpace on Space Channel, and producers filmed segments on several projects for the show—the piece aired in April 2014.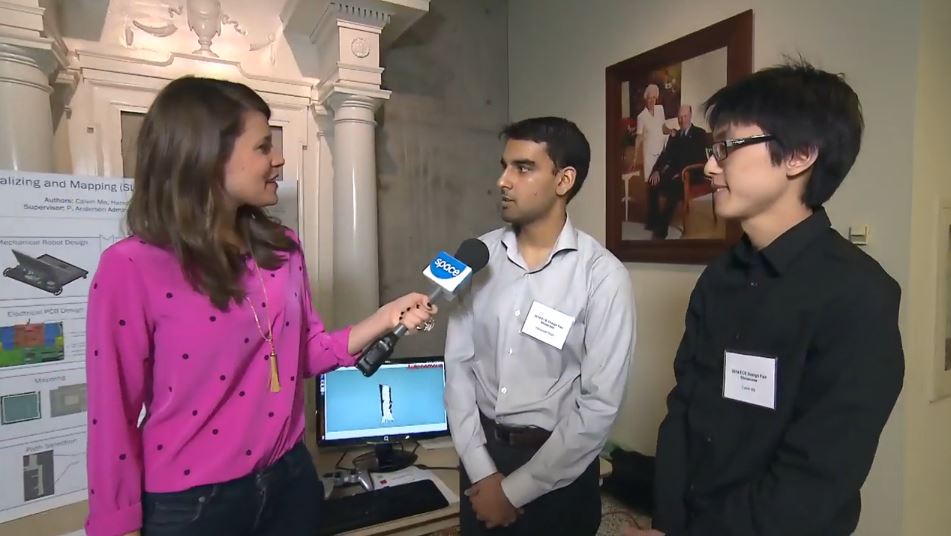 More information:
Marit Mitchell
Senior Communications Officer
The Edward S. Rogers Sr. Department of Electrical & Computer Engineering
416-978-7997; marit.mitchell@utoronto.ca