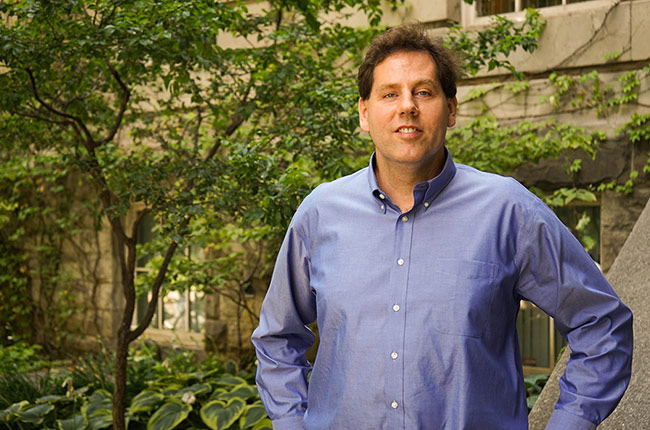 December 8, 2020
By Carolyn Farrell
Professor Vaughn Betz (ECE) has been elected Fellow of the U.S. National Academy of Inventors.
The Academy honours academic inventors who have demonstrated "innovation in creating or facilitating outstanding inventions that have made a tangible impact on the quality of life, economic development, and the welfare of society."
Betz has pioneered new approaches to evaluating and optimizing Field Programmable Gate Array (FPGA) architectures. FPGAs are computer chips that can be reprogrammed after manufacturing to allow for agile, reconfigurable hardware systems. They are used in a wide variety of applications, such as wireless communications, ultrasound imaging machines, automotive electronics and video broadcast.
Betz created a Computer-Aided Design (CAD) flow and methodology, known as Versatile Place and Route (VPR), which is now the world's most commonly used toolset for modelling new FPGA ideas. He co-founded Right Track CAD with Professor Jonathan Rose (ECE) to commercialize his research in 1998, and helped grow the company to 10 engineers and several million dollars in yearly revenue.
In 2000, Right Track CAD was acquired by one of its customers, Altera Corporation (now part of Intel). Betz held several leadership positions within Altera over the next 11 years, ultimately as Senior Director of Software Engineering. He is the architect of many features within Altera's Quartus CAD system, including the placement and routing engine and the power optimization tools, which are used daily by tens of thousands of design engineers worldwide. He is also one of the architects of the first five generations of the Stratix and Cyclone FPGA families, which have cumulative sales of over $15 billion U.S. to date.
Betz is the NSERC/Intel Industrial Research Chair in Programmable Silicon and a Fellow of the Institute of Electrical and Electronics Engineers (IEEE). He has received 13 best or most significant paper awards from leading conferences, as well as the Ontario Professional Engineers Medal for Engineering Excellence. Betz has published over 120 technical articles, one book and four book chapters on programmable logic and CAD. He holds 100 U.S. patents.
"As an engineer, inventor and entrepreneur, Professor Betz reflects the standard of excellence for which U of T Engineering is known," says Chris Yip, Dean of U of T Engineering. "His work has had an exceptional impact on the adoption and commercialization of FPGA technology, and on academic research worldwide. On behalf of the Faculty, my warmest congratulations to him on this richly deserved honour."
"Innovation is at the heart of what we do in ECE and Professor Betz has exemplified this by extending the reach of his research far beyond the lab," says Professor Deepa Kundur, Chair of ECE. "He's made a significant impact on both industry and academia. Hearty congratulations for this worthy recognition."
This story originally appeared on U of T Engineering News.
With files from Jessica MacInnis
More information:
Jessica MacInnis
External Relations Manager
The Edward S. Rogers Sr. Department of Electrical & Computer Engineering
416-978-7997; jessica.macinnis@utoronto.ca