Tyler Irving
June 7th, 2017
Four projects led by U of T Engineering faculty — in fields from from tissue engineering to computing with light — have earned support from the Canada Research Chairs (CRC) program. Among them is Professor Joyce Poon, of The Edward S. Rogers Sr. Department of Electrical & Computer Engineering (ECE), who has been renewed as a Canada Research Chair in Integrated Photonic Devices.
The new and renewed chairholders join 24 of their colleagues across the University of Toronto for a total of 28 CRCs, the highest number of any Canadian institution. In total, 142 new or renewed CRCs were announced in the latest round.
"The University of Toronto is proud of the tremendous globally important research our 15 new and 13 renewed Canada Research Chairs are involved in," said Vivek Goel, U of T's vice-president of research and innovation. "We also appreciate the ongoing support of the Government of Canada in funding this research, which enables U of T to attract and retain some of the top scholars in the world."
Launched in 2000, the Canada Research Chair program aims to help the country attract and retain research leaders in engineering and natural sciences, health sciences, humanities and social sciences. Tier 1 Chairs last for seven years, and recognize outstanding researchers acknowledged by their peers as world leaders in their fields. Tier 2 Chairs are for exceptional emerging researchers and last for five years.
Joyce Poon (ECE) — Canada Research Chair in Integrated Photonic Devices (Tier 2, Renewal)
Lighting up the cloud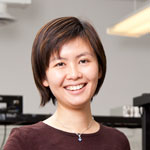 Starting in the 1980s, fibre optics — which use lasers to transmit data at the speed of light over optical fibres — greatly enhance long-distance communications. However, most local networks, including the giant server farms that power cloud computing, still rely on copper wire, which is slower and generates significant amounts of heat. Poon and her team are addressing this challenge by creating smaller, less expensive devices and circuits for short optical communication links. These photonic integrated devices could reduce the energy needed to cool server farms while enhancing their speed, making cloud computing an even more convenient option.
See the complete list of researchers receiving Canada Research Chairs from U of T Engineering.
This story originally appeared on U of T Engineering News
More information:
Jessica MacInnis
Senior Communications Officer
The Edward S. Rogers Sr. Department of Electrical & Computer Engineering
416-978-7997; jessica.macinnis@utoronto.ca