June 25, 2013
Professor Farid Najm was recently recognized with a Prolific Author Award at the 50th anniversary celebration of the Design Automation Conference (DAC) in Austin, Texas.
Najm, current chair of The Edward S. Rogers Sr. Department of Electrical & Computer Engineering, has published more than 30 papers at DAC and was inducted into the DAC 30 Club at an awards banquet Wednesday, June 5. 
DAC is the premier conference devoted to the design and automation of electronic systems, embedded systems and software, and intellectual property. 
Najm has attended DAC almost every year since he was a graduate student. "It's always wonderful to reconnect with colleagues at DAC," says Najm. "It's an honour to be recognized among peers I hold in such high regard."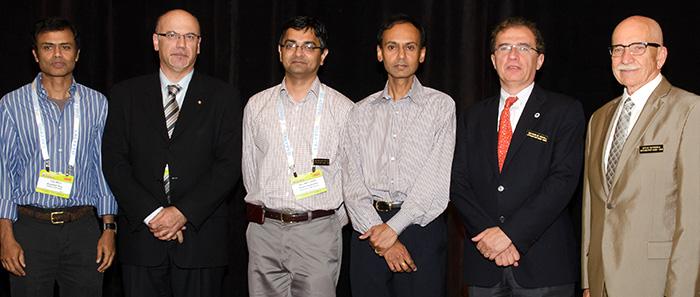 A complete list of award winners from DAC 2013's 50th Anniversary Banquet is available here: http://www.dac.com/50th+anniversary+banquet.aspx
More information:
Marit Mitchell
Senior Communications Officer
The Edward S. Rogers Sr. Department of Electrical & Computer Engineering
416-978-7997; marit.mitchell@utoronto.ca