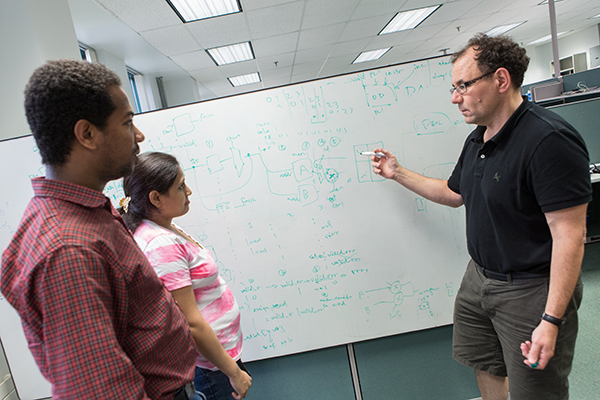 September 27, 2016
Carolyn Farrell
Professor Jonathan Rose has been recognized by the Ontario Confederation of University Faculty Associations (OCUFA) with an OCUFA Teaching Award. These awards recognize outstanding contributions to teaching and learning at the undergraduate and graduate levels.
Rose teaches classes ranging from large first-year courses introducing computer programming, to specialized graduate courses on Computer-Aided-Design algorithms and software. He is particularly known for his emphasis on the teaching of engineering design and his long record of innovation in laboratory and design courses. In 2011, he created the innovative graduate course ECE 1778 Creative Applications for Mobile Devices, which brings engineering and computer science students together with students from other fields to create interdisciplinary smartphone applications. This course is the first to be offered to all graduate students at University of Toronto. It has proven extremely popular and has already resulted in apps that solve problems in an enormous range of fields, including medicine, urban planning, high-school education and addiction management, among many others.
Rose is passionate about incorporating entrepreneurship into the engineering curriculum. In 2004, he founded the Engineering Entrepreneurship Seminar series, which brings guest speakers to U of T Engineering to share the stories of their companies and inspire students to follow in their footsteps. He currently serves as the inaugural director of the Engineering Business minor, which he played a key role in developing. He also played a leadership role in the creation of The Entrepreneurship Hatchery, and serves as chair of its Advisory Committee.
As chair of The Edward S. Rogers Sr. Department of Electrical & Computer Engineering from 2004-2009, Rose prioritized the department's teaching mission, emphasizing and celebrating excellence in teaching, and providing opportunities for professors to develop and improve their teaching competencies. He has also made important contributions to education outside of U of T: in 2011 he travelled to Ethiopia to help the Addis Ababa Institute of Technology mount its Ph.D. program by creating sustainable graduate courses.
Rose has garnered several awards and accolades for his contributions to engineering education. He has won four departmental teaching awards and in 2012 he received the Faculty Teaching Award. In 2014 he won the University of Toronto Faculty Award for excellence in teaching and research, and in 2015 he received the Faculty's Sustained Excellence in Teaching Award. That same year he was awarded the Engineers Canada Medal for Distinction in Engineering Education. Earlier this year, Professor Rose received the President's Teaching Award, U of T's highest honour for teaching.
"I am delighted that Professor Jonathan Rose continues to be recognized for his extraordinary dedication, innovation and leadership throughout his career as an educator," said Dean Cristina Amon. "Engineering has benefited tremendously from his outstanding classroom teaching, development of cutting-edge courses and exceptional service as an academic leader. On behalf of the Faculty, I congratulate him on this richly-deserved honour."
More information:
Jessica MacInnis
Senior Communications Officer
The Edward S. Rogers Sr. Department of Electrical & Computer Engineering
416-978-7997; jessica.macinnis@utoronto.ca