May 7, 2014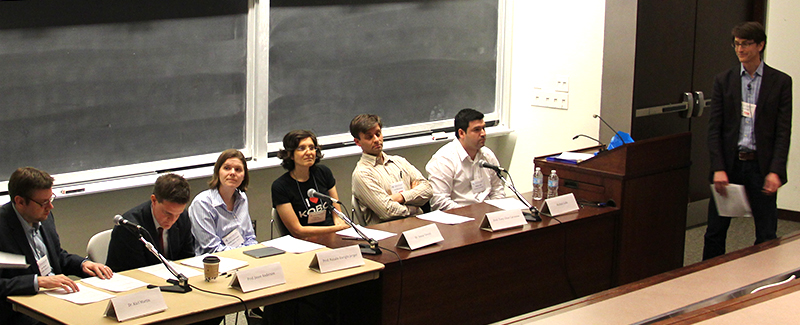 Students on the cusp of key career moves gathered at Connections 2014, the 10th annual symposium hosted by graduate students in The Edward S. Rogers Sr. Department of Electrical & Computer Engineering. The conference united industry players, faculty members and graduate students for a packed program of tech talks, poster sessions and oral presentations.
Karl Martin, co-founder and CEO of Bionym and an ECE alumnus himself, delivered an exciting tech talk on the Nymi, the world's first wearable biometric authentication device, and how wearing your heart on your wrist changes the way you move through the world. "The problem that we deal with at Bionym is one of identity," said Martin. "How do you prove who you are to the devices and services around you? Imagine everything to do with the control of your environment could know your identity—could know who you are and your preferences."
Exactly one year ago at Connections 2013, Martin revealed a video demonstrating the Nymi in its current form. In the intervening 12 months his company has grown from four people to 27. "My reason for being here is that I like to stay connected with what's going on in ECE, and I'm always looking for people who are looking for jobs, from pretty much anywhere in ECE," he said.
The event culminated in a panel on the topic 'Academia & Industry Crossroads', moderated by Professor Stark Draper. The lively conversation touched on similarities and differences between life in academia vs. industry, the value of earning a PhD degree today, and whether one can have more impact by pursuing a career in industry or academia, and how. Panellists included Martin; Dr. Inmar Givoni, a senior research scientist at Kobo; Michael Galle, CEO of Inometrix Inc. and a current PhD candidate; and Professors Jason Anderson, Natalie Enright Jerger and Tony Chan Carusone of ECE.
"If you're in industry, it's not just curiosity-driven research…when you have product-driven research, you have to ask yourself 'Am I really interested in all the nuances that take research and turn it in to a usable product?'" said Martin. "There's innovation on both sides, it's just a different kind, for different motivations."
"A lot of people go into industry because they say they want to have impact on product," said Professor Enright Jerger. "The reason I went into academia is because by mentoring students, I think I can have a much larger impact."
On the question of whether to do a PhD, the panelists were divided. "Don't do a PhD because you think that four years from now you won't be able to find a job," said Professor Enright Jerger.
"A PhD is an incredible journey—I think you learn a lot about yourself, and your strengths and weaknesses," added Givani.
"If you're willing to work for little to no pay for five years, there are a lot of things you can do to discover yourself," countered Professor Chan Carusone.
Martin summed it up: "The nice thing is there's no shame in dropping out of a PhD…and you never know where your research is going to go."
See the complete Connections 2014 program, and get involved with the next Connections conference.
More information:
Marit Mitchell
Senior Communications Officer
The Edward S. Rogers Sr. Department of Electrical & Computer Engineering
416-978-7997; marit.mitchell@utoronto.ca