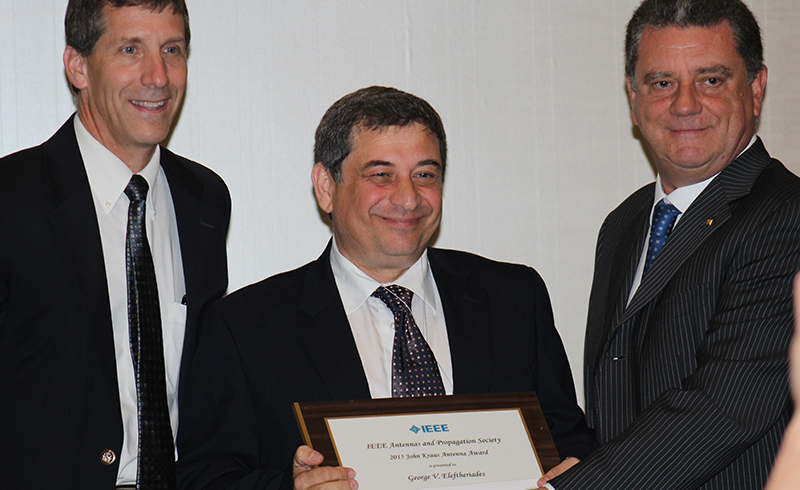 July 24, 2015
Professor George Eleftheriades is the 2015 recipient of the significant John Kraus Antenna Award from the IEEE Antennas and Propagation Society. The award is given annually to "honour an individual or team that has made a significant advance in antenna technology." Professor Eleftheriades is recognized for "pioneering contributions to metamaterials and their applications to antennas and sub-diffraction imaging."
Metamaterials are engineered materials that possess properties not found in nature. Eleftheriades and his group have developed metamaterials to enable a vast array of technological advancements. Potential application areas for this work include medical imaging and treatment, inexpensive and improved signal propagation that could one day bring Internet to inaccessible and remote locations all around the world, and even invisibility cloaking from radar.
Professor Eleftheriades, of The Edward S. Rogers Sr. Department of Electrical & Computer Engineering, accepted the award at the 2015 International Symposium on Antennas and Propagation and North American Radio Science Meeting (APS/URSI), held July 19-24 in Vancouver.
ECE was strongly represented at APS/URSI 2015, and several other professors, researchers and students were recognized.
Dr. Alex Wong, a post-doctoral fellow in the Eleftheriades Group, received a Junior Research Award funded by a Raj Mittra Travel Grant. The prize, worth $750, is awarded to "a junior scientist pursuing research in areas of traditional interest to APS or URSI."
Professor Sean Hum and PhD candidate Liang (Tony) Liang received the R.W.P. King award, given to "an author under 36 years of age for the best paper published in the IEEE Transactions on Antennas and Propagation during the previous year." Liang and Professor Hum earned the award for their paper titled 'Realizing a Flat UWB 2-D Reflector Designed Using Transformation Optics', published in February 2014.
"It's gratifying to see George's trailblazing work recognized with this important award," said Professor Farid Najm, ECE department chair. "My sincere congratulations to him, as well as Sean, Tony and Alex. This is a terrific result from our world-class Electromagnetics Group."
More information:
Marit Mitchell
Senior Communications Officer
The Edward S. Rogers Sr. Department of Electrical & Computer Engineering
416-978-7997; marit.mitchell@utoronto.ca