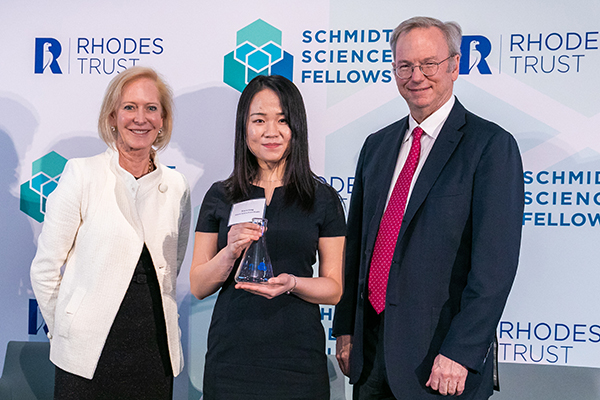 May 1st, 2018
Sean Bettam
Xiwen Gong (ECE PhD candidate) of The Edward S. Rogers Sr. Department of Electrical & Computer Engineering (ECE), and Jielai Zhang of the Department of Astronomy & Astrophysics in the Faculty of Arts & Science, were named this week to the inaugural class of Schmidt Science Fellows for 2018-19.
The new program administered in partnership with the Rhodes Trust provides postdoctoral opportunities in areas different from those in which they completed their PhD research.
Gong and Zhang are among 14 recipients in the inaugural class, which also includes scholars from institutes such as University of British Columbia, Harvard University, MIT, Stanford University and ETH Zurich. Of this list, Harvard was the only other university to receive two awards. The fellowships will place students in a new research environment immediately following the completion of their PhD studies, in order to encourage an interdisciplinary scientific mindset.
Gong studies strongly luminescent nanoparticles, known as colloidal quantum dots, for applications such as converting light to renewable electricity. As a Schmidt Science Fellow, she plans to apply machine learning and existing expertise in photonics and other areas to the complex problem of quantum dot composition, advancing the fields of quantum computing and optical quantum communications.
"It's an adventurous choice to enter a new research field after finishing a PhD, as it means one needs to move out of their comfort zone completely," said Gong, who studied under University Professor Ted Sargent (ECE). "The Schmidt Science Fellow scholarship encourages me to work in a new field, and to broaden my perspective. I believe that interdisciplinary research is the key to bright and innovative ideas to solve long-standing problems in fields from energy to life science and beyond."
"Xiwen took a bold and creative approach to her research at every stage," said Sargent. "It has been a true privilege to watch her grow from a brilliant but fresh researcher, to a seasoned scholar who today is passing along her knowledge to the next generation of talented graduate students. I will continue to watch her scientific advancements with admiration!"
In addition to the post-doctoral placement, the program will also feature five weeks of high-level courses and experiential workshops that will explore a diverse range of scientific advances, conversations with some of the world's preeminent scientific and societal leaders, and immersive leadership experiences that will help Fellows build support for their future work. These weeks will be hosted by several of the world's leading universities who have partnered with the Schmidt Science Fellows program, beginning at the University of Oxford in July 2018.
"By working in a research lab outside of their existing area of expertise, our graduates will be introduced to new science and technology, fresh ways of thinking and approaches to challenges, and will have opportunities to expand their network of colleagues who can help shape their future success," said Vivek Goel, U of T's vice-president of research and innovation. "My sincere congratulations to both on this well-deserved recognition of their tremendous work."
"The Schmidt Science Fellows program is truly unique in that it creates optimal conditions for creativity, innovation, and cross-fertilization across the STEM disciplines," added Joshua Barker, vice-provost, graduate research and education, and dean of the School of Graduate Studies. "I am extraordinarily proud of Xiwen and Jielai's achievement and really see this opportunity as a potential game-changer, both for their own intellectual development and for the advancement of their fields."
Funding for the Schmidt Science Fellows program comes from Eric and Wendy Schmidt, the former Executive Chair of Google and then Alphabet, and president of The Schmidt Family Foundation and Co-founder of the Schmidt Ocean Institute, respectively.
This story originally appeared in U of T Engineering News.
More information:
Jessica MacInnis
Senior Communications Officer
The Edward S. Rogers Sr. Department of Electrical & Computer Engineering
416-978-7997; jessica.macinnis@utoronto.ca