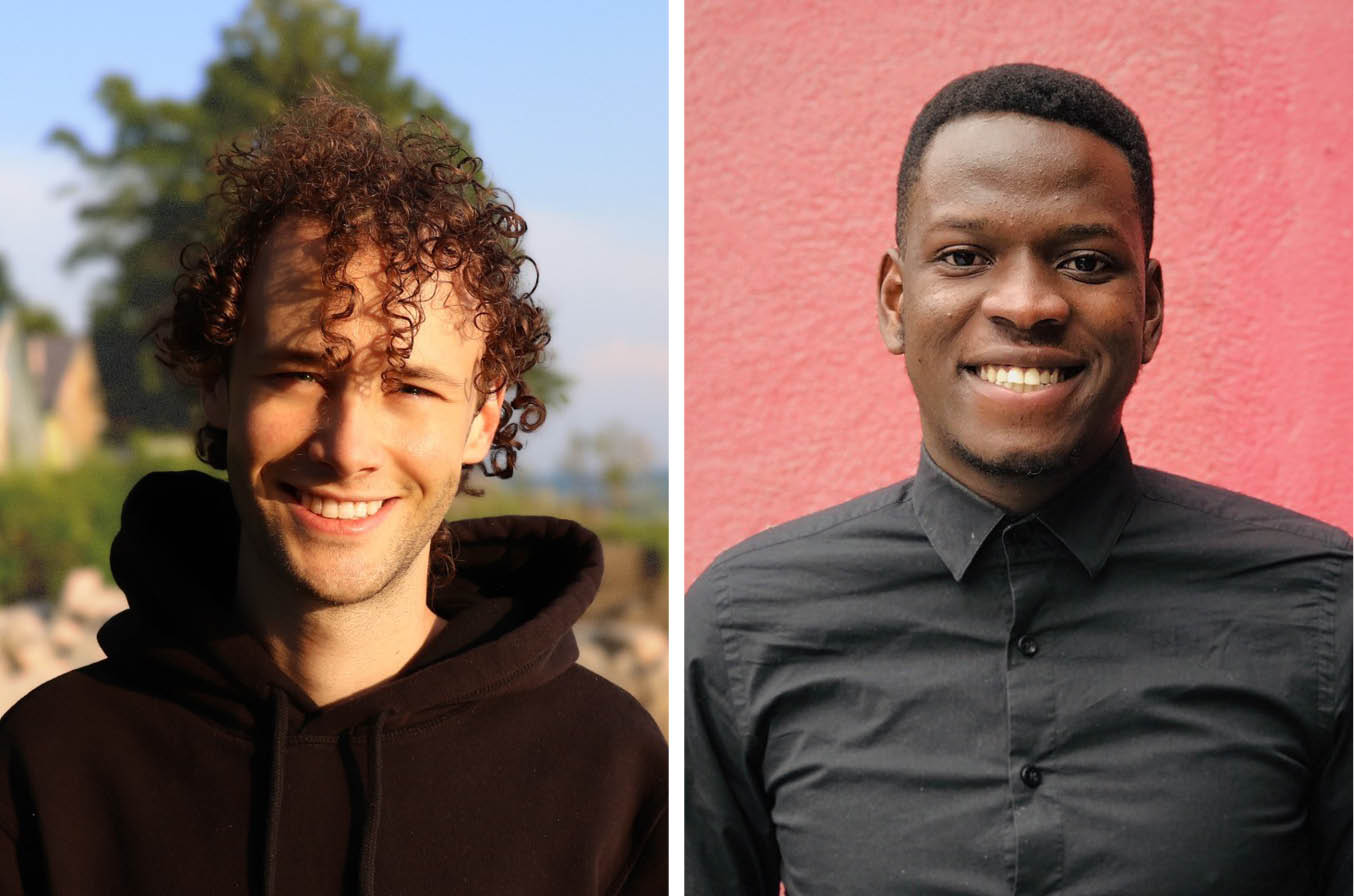 MARCH 1, 2022 • By Tyler Irving
Zachary Jager LaPointe and Joshua Aikohi Pius (both Year 4 ECE) are among the outstanding students from across the Faculty who have been presented with a University of Toronto Student Leadership Award (UTSLA).
Both ECE students have undertaken a wide range of roles over their school career — too many to list in full — aiming to help and guide their fellow students.
LaPointe took on responsibilities for the U of T Engineering Society such as Vice-President Student Life, First-Year Chair and Finance member, and is currently serving as its Fourth-Year Chair. He was integral to the redesign of SkuleVote, a student-developed site for holding elections, upgrading the encryption to help protect students, among other things.
Pius has held a number of roles with the U of T Chapter of the National Society of Black Engineers (NSBE), including President, Senator and Financial Director. He was the Vice Chair of Finance for Orientation Week and is currently Head Lead for NSBEHacks, planning and running a hackathon that draws 200 students and involves seven sponsors.
"At ECE, we strongly believe the student experience should go beyond the classroom. It's about connecting with people and with the larger U of T Engineering community," says Professor Deepa Kundur, Chair of ECE. "LaPointe and Pius have embraced this mindset and shown great initiative, generosity and diligence — qualities that make good leaders. Congratulations to them and all UTSLA recipients."
The UTSLA continues a long-standing tradition which began with the Gordon Cressy Student Leadership Award, established in 1994 by the University of Toronto Alumni Association in honour of Mr. Gordon Cressy, former Vice-President, Development and University Relations. During the award's 25-year history, it celebrated the exemplary contributions of more than 4,000 students whose commitment and service had a lasting impact on their peers and the university.
In 2022, 18 U of T Engineering students earned the honour, which recognizes leadership, service and commitment to the university. Their diverse activities include heading up co-curricular organizations such as Engineers Without Borders, leading design teams such as the University of Toronto Supermileage Team, directing the musical comedy revue known as Skule™ Nite, and taking on executive roles in the U of T Engineering Society. They are joined by 166 students from other Faculties across U of T.
U of T Engineering will celebrate this year's UTSLA recipients with a virtual ceremony hosted by U of T Engineering Dean Christopher Yip, to be held April 27.
"Students like these embody everything that makes our Faculty so special," said Dean Yip. "Through the activities and accomplishments we are celebrating today, they have made a positive impact on our community, while also discovering new strengths and abilities that will serve them well as they join the next generation of global engineering leaders. I'm so proud of them, and excited for what lies ahead."
Story, including the full list of U of T Engineering UTSLA winners, from U of T Engineering News
With files from Matthew Tierney
For more information:
Jessica MacInnis
External Relations Manager
The Edward S. Rogers Sr. Department of Electrical & Computer Engineering
416-978-7997 | jessica.macinnis@utoronto.ca