Terry Lavender
July 3, 2013
ECE PhD candidate Kevin Banovic's poster was one of the top 12 posters from around the world in the Broadcom Foundation University Research Competition last month.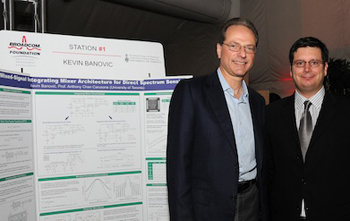 Banovic's poster, "Mixed-Signal Architectures for Spectrum Sensing," was presented at a poster session at Broadcom's annual Technical Conference June 5-6. The finalists shared insights into their engineering research and how its future application can improve lives and contribute to society. He received a cash prize of $1,000 in recognition of the quality of his presentation.
A PhD student in ECE's Electronics Group, Banovic is studying how to provide low power and direct spectrum-estimation solutions that can be used to improve the spectrum efficiency.
"I was introduced to cognitive radio as a possible research area a few years back and spectrum sensing is the enabling technology," he said. "Cognitive radio is a method to increase spectrum efficiency by identifying unused segments of the licensed frequency spectrum that can be utilized for data transmission on a non-interfering basis with licensed signals. My research focus is on mixed-signal architectures for spectrum sensing applications including cognitive radio application, interference detection and buit-in test applications."
The Broadcom competition celebrates academic excellence and social awareness among students who perform extraordinary academic research, said Paula Golden, Executive Director of the Broadcom Foundation. "The intellectual power of the finalists, who come from universities throughout the world, is profound and we are honored to have them compete on the eve of Broadcom's Technical Conference."
Broadcom Foundation's mission is to advance education in science, technology, engineering and mathematics (STEM) by funding research, recognizing scholarship and increasing opportunity.
Media contact:
Marit Mitchell
Senior Communications Officer
The Edward S. Rogers Sr. Department of
Electrical & Computer Engineering
416-978-7997; marit.mitchell@utoronto.ca