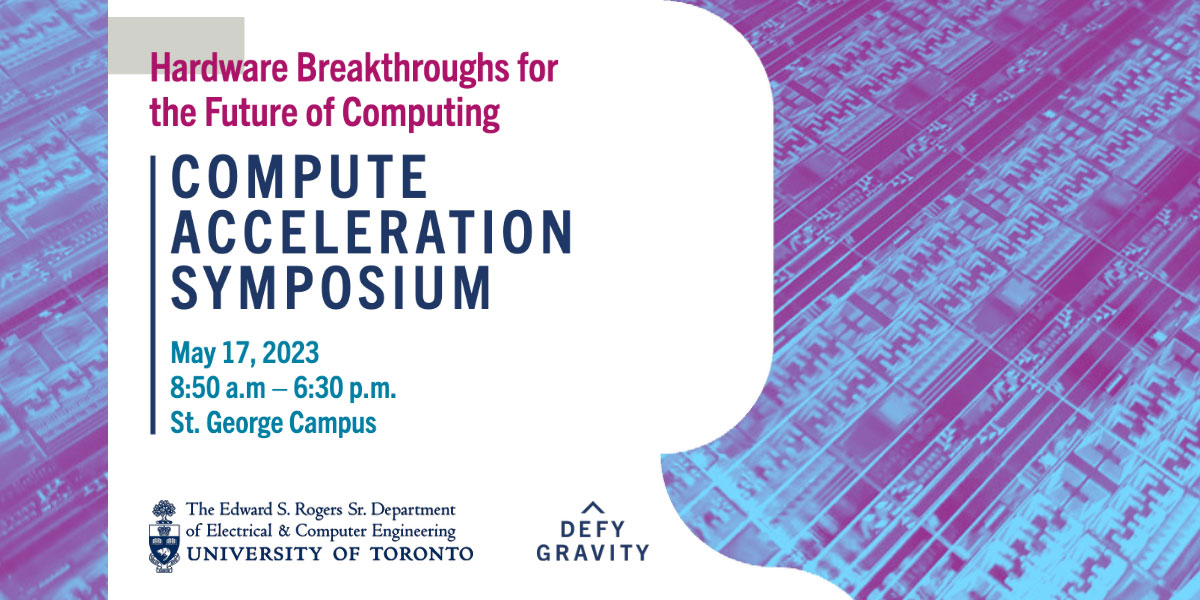 Hardware Breakthroughs for the Future of Computing
Artificial intelligence and machine learning are becoming pervasive in our society, and roadblocks to its continued growth must not be ignored. The energy consumption and costs required to train neural networks in large-scale computing facilities are rising exponentially, which will affect its scalability. To run neural networks on low-power and mobile devices at the edge of the network — such as smart speakers, phones, and vehicles — is proving a challenge. On its current trajectory, hardware cannot keep up with demand.
Event passed
May 17, 2023, 8:50 a.m. – 6:30 p.m.
Medical Sciences Building, Room 3153
Where there is need, there is opportunity — and what the future of computing needs is a breakthrough in hardware. The hardware solutions in devices, microsystems and their networks in the near term will use optimized designs that fully exploit the palette of classical physics phenomena. In the long term, quantum computing promises to solve specific problems that are impossible with classical computers.
Free registration for U of T participants.
The Compute Acceleration Symposium will bring together technology leaders and thought leaders to share their perspectives on transformative hardware for future computing. Photonics will play a central role, given that it is a key enabler in novel classical and quantum hardware solutions. The symposium will conclude with a roundtable discussion on how to build a thriving and impactful R&D and commercial ecosystem.
Confirmed speakers
Francesco Bova, Rotman School of Management, University of Toronto
Darius Bunandar, Lightmatter
Tony Chan Carusone, Alphawave Semi and University of Toronto
Dirk Englund, MIT (also speaking on behalf of Noel Wan, QuEra Computing)
Ryan Hamerly, NTT Research and MIT
Jason Mak, SCINTIL Photonics
Andreas Moshovos, University of Toronto
Tatsuhiro Onodera, NTT Research and Cornell University
Chris Ouslis, National Research Council Canada
Bhavin Shastri, Queen's University
Paul Slaby, Canada Semiconductor Council
Martin Snelgrove, Untether AI
Christian Weedbrook, Xanadu Quantum Technologies
Nish Sinnadurai, Cerebras Systems
Elissa Strome, Canadian Institute for Advanced Research (CIFAR)
Rajat Ghosh, Innovation, Science and Economic Development Canada
Sponsors
In addition to main sponsor University of Toronto, the Compute Accelerate Symposium is grateful to the following organizations for their support:
The Edward S. Rogers Sr. Department of Electrical & Computer Engineering, U of T
The Faculty of Applied Science & Engineering, U of T
NTT Research
SCINTIL Photonics
Lightmatter
Xanadu Quantum Technologies
Oz Optics
Optica Student Chapter, U of T
SPIE Student Chapter, U of T
IEEE Toronto Section
Photonics Innovation Centre, U of T
Centre for Quantum Information and Quantum Control, U of T
Business Development Bank of Canada
Silicon Electronics-Photonics Integrated Circuits (SiEPIC)
CMC Microsystems