Do you find yourself explaining what ECE is all about to your friends and family? Are you looking to gain professional experience, training and networking opportunities? Are you passionate about ECE, Engineering and the University of Toronto and want to share that enthusiasm with prospective and incoming students? Then you are a perfect candidate to be an ECE Ambassador!
What is an ECE Ambassador?
ECE Ambassador is a volunteer position for electrical and computer engineering students to represent the department at various recruitment, outreach and alumni activities and exclusive events held throughout the year. Ambassadors act as liaisons between the current student community and external groups such as prospective students, their parents, and alumni.
Who can be an ECE Ambassador?
Genuine desire to help ECE remain one of the top engineering departments in Canada by putting our most polished and professional face forward, and recruiting the best and brightest students
Enthusiasm for and experience with ECE programs and facilities
Excellent interpersonal, organizational, and communication skills
Punctuality and attention to detail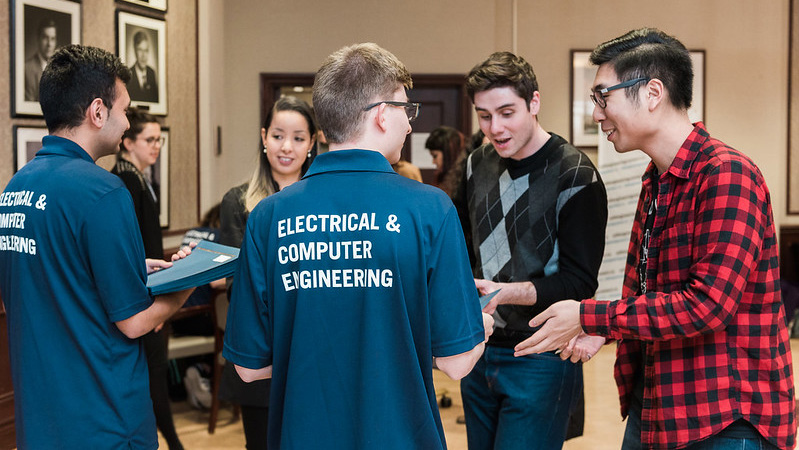 Comfortable speaking about your personal experiences with all aspects of school and Skule, potentially in front of large groups
Ability to organize and lead large groups from place to place in busy surroundings
Duties and time commitment
As an ECE Ambassador, you represent the student body at various events — recruiting and outreach, campus open houses, high school visits and others—performing duties to assist the Event Planning Coordinator, such as:
Assist with event setup and teardown
Participate in student Q&As (both in-person and virtually)
Positively represent the student body, and act as an ambassador to alumni, prospective students and parents at various recruiting events, campus open houses, high school visits, and other events as assigned.
Assist in hosting recruitment and outreach events on behalf of the department
Attend informational, training or pre-event sessions
Expect to volunteer for about three events over the course of the year, either at a few full-day weekend events or several afternoon and evening weekday events, or some combination of the two that fits your availability. This may include attendance at informational, training or pre-event sessions.
All ECE students are encouraged to apply. Please fill in the simple application form and attach your resume. For more information, please email Laura Brown, Event Planning Coordinator, at eceinquiry@utoronto.ca.
What are the benefits of being an ECE Ambassador?
We're so glad you asked! You become a representative of your class and a conduit for your peers and their interests with the department and ECE Chair Professor Deepa Kundur. You will:
Gain access to exclusive events
Network with alumni and future students
Sharpen your communication and public speaking skills
Strengthen your CV with valuable experience
At the end of your time as an ECE Ambassador, you will have gained a greater understanding of electrical and computer engineering and engaged more fully with the engineering community — not to mention, met many interesting new people.