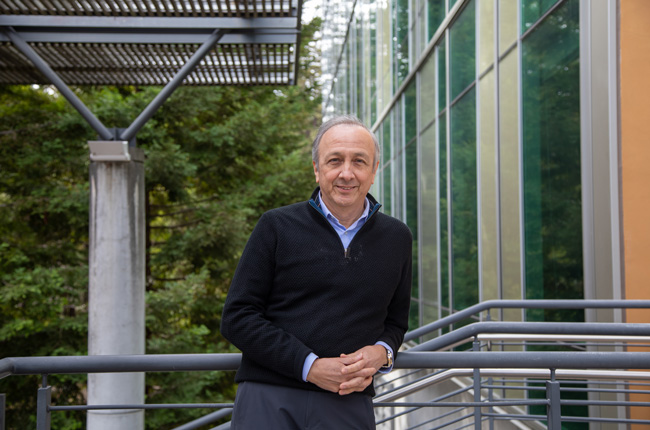 SEPTEMBER 12, 2023 • By Matthew Tierney
In September, Professor J.J. Garcia-Luna-Aceves joined The Edward S. Rogers Sr. Department of Electrical & Computer Engineering (ECE).
"How wonderful to welcome Professor Garcia-Luna-Aceves to our department," says Professor Deepa Kundur, Chair of ECE. "His many, many accomplishments over his esteemed career in Mexico and the U.S. speak for themselves. He brings to Toronto and ECE outstanding insights, ideas and passion to improve computer networking and the Internet for all facets of society."
ECE's Matthew Tierney connected with Professor Garcia-Luna-Aceves to learn about his drive to create just and equitable digital infrastructures, his advice to students on accepting conventional wisdom, and how his love of painting started him down a path to engineering.
Tell us about your research.
My research focuses on computer communication. It addresses the analysis and design of architectures, communication protocols and algorithms for computer networks.
Although details of computer networks fly under the radar for most people, such research is fundamental to the success of future technologies and our society. Networks are found everywhere nowadays, and it's difficult to find a computing system that does not involve a network, or to imagine any sector of society that doesn't rely on or could benefit from computer networks.
The scope of my research work includes the Internet at large, wireless networks, server-room networks, sensor networks, content-delivery networks, information-centric networking, and deployments of the Internet of Things (IoT).
What excites you about this research?
We are at an inflection point in communications today that may be as far reaching as the packet switching that led to the Internet.
Consider that today's computer networks are based on the initial designs by giants in the field of computer networks, dating from the 1960s to 1980s. While these architectures and protocols have proven to be remarkably useful, the communication, computing and storage resources available today are many orders of magnitude larger and more affordable than researchers could have imagined 50 years ago.
Such vast computing resources allow us to reimagine the Internet, or any computer network and distributed system, with machine intelligence operating not just at the servers and clients but throughout the entire network. This will allow society to develop and use new network architectures and protocols for intelligent information infrastructures that are more just, equitable and inclusive.
Why did you choose ECE at U of T?
I'd been a faculty member at UC Santa Cruz for 30 years and had recently ended my affiliation with the Xerox Palo Alto Research Center (PARC) when I ran across the advertised position in ECE. I was looking to take the next step in my professional life and suddenly there it was!
The position on network architectures and protocols had the potential for transformational impact in the field because of its scope and because of the support provided by the University of Toronto and Canada. I wanted to be a major contributor to a great success story.
Also, the ECE department ranks among the best in North America, and it's well known that U of T is the best university in Canada and among the best in the world.
Any collaborations or interdisciplinary work you are most looking forward to pursuing?
The scope of the research I want to conduct is broad and involves multiple disciplines — multidisciplinary collaboration is a must. I really look forward to future collaboration with several colleagues in ECE and other departments at U of T, whose work I know well and aligns with my skills and interests.
In addition, I plan to start a new research hub, called the Centre of Excellence for Networking Innovation in Toronto (CENIT), that draws on faculty and students from the best universities around the world to imagine, design and develop intelligent computer networks of the future. The research thrusts in CENIT will be socioeconomically aware and community-engaged with a focus on creating just and equitable digital infrastructures.
The goal of all this collaborative research is to make the Internet far more useful, efficient and capable of understanding and responding to users' intent, without people having to worry about how it delivers content, services and connectivity.
Any advice for the incoming ECE class?
I remember as a student and a junior researcher, I tended to believe that approaches and results published in standards, important venues or by well-known researchers must be right. But over time, I realized that all research results have limitations, perhaps stemming from the researchers' own interests, or the technological context the results were derived in.
Now I advise students not to be afraid to challenge conventional wisdom when they approach a research problem. Don't believe a result is true or the best approach simply because it always has been so. Students should ride the wave of the technology they enjoy, to imagine and work for a better future for all society.
What do you hope to accomplish, as an educator and as a researcher, in the next few years?
My immediate goal is to get CENIT off the ground. It involves a consortium formed with companies who share our vision for intelligent digital infrastructures and is based on external funding. There will be some heavy lifting at the start!
Long term, I hope to share my love for discovery and innovation in computer networks with students and colleagues, and have some positive impact in Canada and around the world. I want my students to co-author many papers and patents with me.
Lastly, I have two books in the works and hope I can finally complete them.
Tell us a fun fact about yourself.
Growing up I liked drawing and painting, either oil or watercolor — but artists in Mexico, where I grew up, do not make a great living. So as a compromise, I decided I was going to be an architect. But then I simply followed my older brother into engineering because it seemed like something I could do.
My last year in college I took a class on computer networks — back then, I never knew they existed. The course used the book Computer Communication Networks by Norm Abramson and Frank Kuo, which discussed the ALOHA system at the University of Hawaii at Manoa. I fell in love with the ideas of the ALOHA system, wrote my B.S. thesis about it, and decided to go to graduate school at the same university. There I met Frank Kuo, who agreed to be my thesis advisor.
So, I ended up an architect after all — just not for buildings, but computer networks.
For more information:
Jessica MacInnis
External Relations Manager
The Edward S. Rogers Sr. Department of Electrical & Computer Engineering
416-978-7997 | jessica.macinnis@utoronto.ca