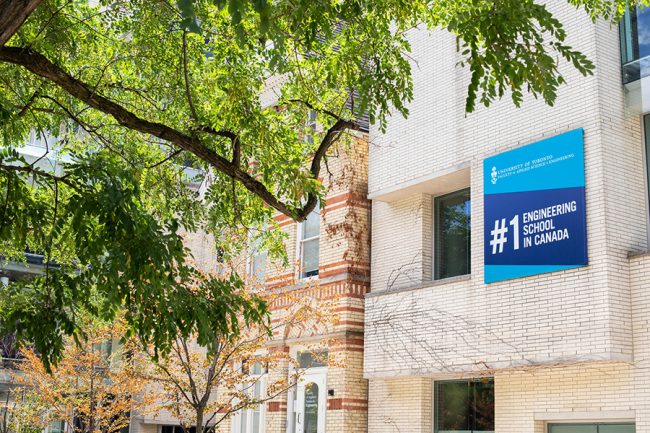 April 8, 2021
By Carolyn Farrell
Sixteen Engineering faculty and staff have been honoured for their outstanding contributions to U of T Engineering with teaching, research, and administrative staff awards.
These awards recognize exceptional faculty and staff members for their leadership, citizenship, innovation and contributions to the Faculty's teaching, service, and research missions.
"This year it's especially important for us to celebrate and acknowledge the incredible contributions made by our amazing faculty and staff," said U of T Engineering Dean Christopher Yip. "My warmest congratulations to the awardees, and my enormous thanks to all the faculty and staff who have risen to meet the unprecedented challenges we have faced."
"The strength of the ECE Department is its people and I'm thrilled to see three members of our community recognized by the Faculty this year," says Professor
Deepa Kundur
, Chair of ECE. "Thank you to Professor Sarris, Leanne Dawkins and Lina McDonald for their dedication, boundless energy and innumerable contributions to ECE and our students."
The three ECE award recipients are:
Administrative Staff Awards
Leanne Dawkins (ECE)
Barbara McCann Quality of Student Experience Award for Frontline Staff
Recognizing a staff member who has made significant contributions to the quality of student experience in the Faculty through their outstanding frontline service.

As Undergraduate Program Manager and Academic Advisor for ECE, Leanne Dawkins is responsible for ensuring a positive experience for approximately 1,300 undergrad students in one of U of T's largest departments. She not only makes sure that the undergraduate office runs smoothly, but, most crucially, provides outstanding one-on-one service to students facing complex academic and personal challenges. As a counsellor, Dawkins is known for her exceptional listening skills, which allow students to feel heard in very difficult situations. Despite the enormous demands on her time, she works individually with each student for as long as it takes to find the right solution for them. Dawkins is not only an advocate for ECE's students, but an incredible resource as well; she has made it a priority to improve communications with students and to provide better access to important information. She has also worked hard to create a feeling of community for ECE's undergrad students; during this year's switch to online learning, she has maintained this sense of community via multiple platforms, such as the virtual town halls she leads every month.
Lina McDonald (ECE)
Innovation Award
Recognizing a staff member who has shown innovation in developing a new method, technology or system, or improving an existing system, to the benefit of the Faculty.
As ECE's Undergraduate Program & Payroll Officer, Lina McDonald has continually improved and streamlined many of the complex processes related to this role. Most notably, she envisioned and guided the creation of a novel user-friendly online TA application and HR system for students and professors, making both the TA selection process and the assignment of TA hours far less onerous. The system improves how users apply for TA roles online, tracks the status of applications, time-stamps documents, allows assigned hours to be allocated to duties, and allows users to complete various electronic forms for e-filing. It also tracks TA training, ensuring that all training requirements have been fulfilled. This system replaces tasks that were historically done strictly on paper. McDonald's innovation impacts over 600 TA positions and all ECE professors who teach courses involving TAs. A similar initiative has recently been applied to ECE's summer undergraduate awards process. In addition, McDonald has worked on improving the ECE undergraduate admissions process which has allowed the department to more effectively target high-achieving students and students from underrepresented groups.
Teaching Awards
Costas Sarris (ECE)
Faculty Teaching Award
Recognizing a faculty member who demonstrates outstanding classroom instruction and develops innovative teaching methods.
Costas Sarris has been one of ECE's top-rated instructors, with outstanding teaching evaluations in courses that tackle some of the most challenging topics in the ECE undergraduate curriculum, relating to electromagnetic fields and waves. His instruction integrates experiments, theory, big picture and detail-oriented presentations, and group and individual work, offering pathways to learning and success to every student, regardless of their learning style. Sarris has created innovative course materials, including conceptual question banks, experimental/software-based demos and notes that link his courses with popular technologies (e.g. wireless communications and medical imaging) and advanced research topics. Even before the transition to online teaching this year, he designed tools for individual learning, including lecture recordings; he recently developed "concept videos", aimed at concisely introducing key new topics. He has also led fourth-year capstone projects and theses resulting in published and award-winning research. Sarris has won the Gordon R. Slemon Award for the teaching of design and has received the ECE Undergraduate Teaching Award three times.
Read about all 16 winners in the original story on U of T Engineering News.
With files from Jessica MacInnis 
More information:
Jessica MacInnis
External Relations Manager
The Edward S. Rogers Sr. Department of Electrical & Computer Engineering
416-978-7997; jessica.macinnis@utoronto.ca