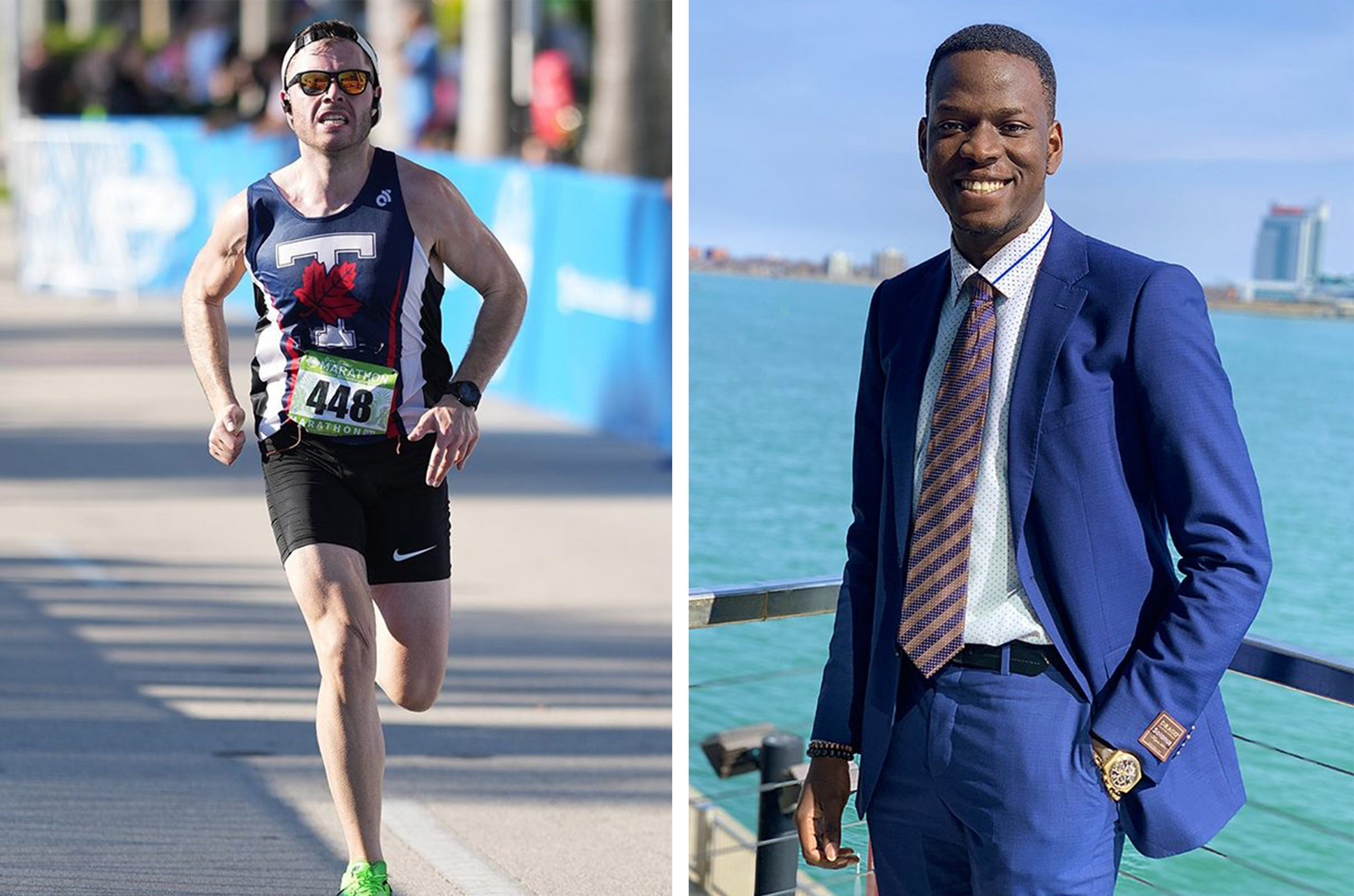 JUNE 15, 2022 • By Safa Jinje & Tyler Irving
With the University of Toronto's convocation ceremonies on June 16, 2022, U of T Engineering students mark the end of one journey and the beginning of another.
Having enriched the U of T Engineering community as undergraduate and graduate students, they will join our vibrant, global network of Skule™ alumni, where they will continue to address pressing challenges around the world and inspire the next generation.
This year's 14 Grads to Watch — including ECE's Gerard O'Leary (ECE PhD 2T2) and Joshua Pius (CompE 2T1 + PEY) — embody the spirit of U of T Engineering. Their stories illustrate the creativity, innovation and global impact that define our community. Watch their next steps!
"Congratulations to Gerard O'Leary and Joshua Pius who have demonstrated leadership, served their communities and showed immense resilience in completing their studies despite significant challenges and obstacles," says ECE Chair Professor Deepa Kundur. "Their contributions to the ECE community — and beyond — have been both impactful and inspiring. I look forward to following their journeys as alumni."
Gerard O'Leary (ECE PhD 2T2)
Revolutionizing neurotechnology
O'Leary credits his co-supervisors, Professors Roman Genov (ECE) and Taufik Valiante (Neurosurgery, BME, ECE) for creating the research environment that made it possible to explore without fearing failure.
"I've learned that just because you're not an expert in a problem, it doesn't mean you shouldn't try something. You'll either find a solution or learn more about it," he says.
O'Leary's thesis focused on designing and building neural interface technology, including the development of the neural interface processor (NURIP), a silicon chip that can be placed in the brains of people with uncontrolled epilepsy to detect and stop seizures before they happen. This technology aims to bridge the gap between the nervous system and the digital world, enabling breakthroughs in the treatment of diseases such as epilepsy and Parkinson's disease.
His academic achievements also include running a pilot study in patients with epilepsy at Toronto Western Hospital.
During his PhD studies, O'Leary was also able to face a long-time fear through his discovery of triathlon — an endurance multisport that consists of swimming, cycling and running.
"After a traumatic childhood experience, I was terrified of water. But I overcame my fear of swimming through the support of the University of Toronto Triathlon Club," he says. "The sport became an integral part of my physical and mental health."
After graduation, O'Leary will continue his work on deploying neural interfaces.
"I've co-founded NerveX Neurotechnologies to continue this journey," he says. "As a starting point, we're tackling the challenge of preventing seizures in people with epilepsy, but our technology has the potential to treat many other disorders and augment the human experience."
"We're entering an incredible era in which the physical and digital worlds seem to be rapidly converging. My hope is that NerveX will be at the forefront of this emerging neurotechnology revolution."
I would like to thank Professor Roman Genov and the Intelligent Sensory Microsystems Lab, Dr. Taufik Valiante and the Neuron to Brain Lab, and the Innovations and Partnerships Office for all their support. Thank you to everyone who has worked with me on so many exciting projects over the years, and a special thanks to everyone who was there for me during all the inevitable failures!"
Joshua Pius (CompE 2T1+PEY)
Securing the digital world
Pius is graduating with the confidence that through research and analysis, he can tackle most challenges.
"I have grown both in my intellectual capacity and my understanding of the moral responsibilities of an engineer," he says.
During his time as an ECE student, Pius was involved in the U of T Chapter of the National Society of Black Engineers, where he rose to the role of president. He was part of the team that started NSBEHacks — the first-ever Black student-run hackathon in the Greater Toronto Area.
He was also elected ECE Class Representative First Year, held many F!rosh Week leadership positions and was a residence don. Pius will be valedictorian of his graduating class, elected by his peers in the Engineering Society (EngSoc).
During his PEY Co-op, which was completed remotely due to pandemic restrictions, he worked at Bloomberg New York as a software engineer, followed by positions at Amazon Toronto, Intel and Google in Sunnyvale, Calif.
After graduation, Pius will be moving to New York City to work for Google Cloud as a software engineer. "I am hoping to make a mark within Google, specifically in their security department, as I recognize the importance of improved system security in this digital age," he says.
He also plans to get involved with Google Campus events and stay active in the Black STEM community. "I will feel rewarded if the next BIPOC person to follow me through the door has a clearer path to get to where I am."
I would like to thank my parents; the EngSoc Orientation committee's matriculation, finance and executive teams; NSBE community; ECE students and department; my SkuleNite family and all the supportive friends and faculty members who believed in me. I have had many moments where I doubted myself but persevered thanks to the encouragement from others."
Read about all 14 Grads to Watch in the original story on U of T Engineering News.
With files from Jessica MacInnis
For more information:
Jessica MacInnis
External Relations Manager
The Edward S. Rogers Sr. Department of Electrical & Computer Engineering
416-978-7997 | jessica.macinnis@utoronto.ca