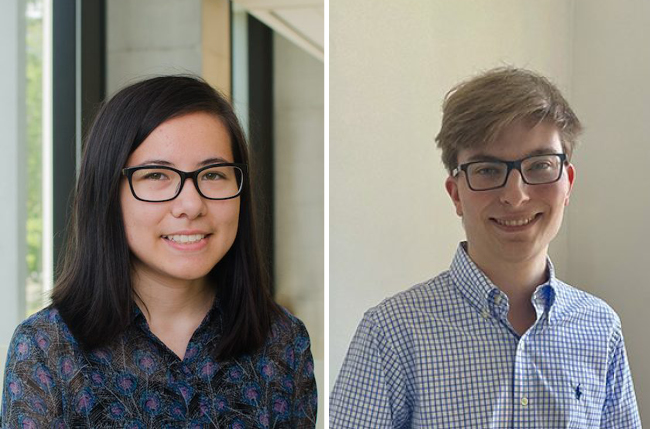 June 23, 2021
By Liz Do & Tyler Irving
With the University's virtual Convocation ceremony on June 23, 2021 U of T Engineering students mark the end of one journey and the beginning of another.
Having enriched the U of T Engineering community as undergraduate and graduate students, they will join our vibrant, global network of Skule™ alumni, where they will continue to address pressing challenges around the world and inspire the next generation.
This year's 14 "Grads to Watch" — including Adam Gierlach (ECE 2T0 + PEY) and Dana Kokoska (ECE 2T0 + PEY) — were selected by their home departments and institutes. They embody the spirit of U of T Engineering, and their stories illustrate the creativity, innovation and global impact that define our community.
"Congratulations to Adam Gierlach and Dana Kokoska, who very deservingly join the ranks of this year's Grads to Watch," says ECE Chair Professor Deepa Kundur. "Not only have they persevered and prospered in their own studies, they showed great leadership skills and selflessness by lending a helping hand to students who started after them. We are proud of their accomplishments as ECE students and look forward to following their journey as ECE alumni."
Dana Kokoska (ECE 2T0 + PEY)
RALLYING THE SKULE™ SPIRIT
Every year, Dana Kokoska volunteered at Girl's Leadership in Engineering Experience (GLEE), an annual event to inspire young female students to pursue engineering at U of T. It's one of the many outreach and community-driven extracurricular activities Kokoska took part in, or led, during her undergraduate studies.
She was the Hi-Skule™ Director, leading a team to design and run outreach initiatives for high school and middle school students, as well as the Vice-Chair Marketing for F!rosh Week this past fall. In the latter role she faced unprecedented challenges, as Kokoska and her team had to find a way to rally the Skule™ spirit, adapt F!rosh traditions, and help welcome first-year students to U of T Engineering — without stepping foot on campus.
"Working with an incredibly driven Orientation Committee to deliver F!rosh Week to the incoming class during a pandemic is an experience I will never forget," she says.
Overcoming obstacles like a virtual F!rosh Week has shown Kokoska the importance of perseverance.
"U of T Engineering was one of the hardest things I've done in my life. I struggled a lot, especially in first and second year, with academics and finding a work-life balance," says Kokoska. "As I continued in my studies, I learned how to adapt to new challenges. Perseverance, effort, as well as a lot of practice, led me to improve myself overall and gave me opportunities I would have never imagined having. For that I am extremely grateful."
After graduation, she will begin working at Honeywell Aerospace as an Electromagnetic Compatibility Electrical Engineer. But just like her time at U of T Engineering, she is already carving out time for extracurriculars: "I am also opening a small business, Daydreamy Design, to pursue my passion for the visual arts."
Kokoska thanks…

"I'd like to thank each and every person in the Skule™ engineering community who has become my friend, helped me with homework, stopped to chat with me, or comforted me when I was feeling down. Going to the Pit after class or work was truly the highlight of each (in-person) day in undergrad, and I will forever cherish all the conversations, laughs and people I met there and at U of T in general. I would also like to thank my Hi-Skule™ Executive team for inspiring so many future engineers, and my Orientation Marketing and Exec teams for being amazing friends to have in a very uncertain time."
Adam Gierlach (ECE 2T0 + PEY)
DESIGNING BIOELECTRONICS
For an electrical engineering graduate, Gierlach has spent a lot of time in medical research labs. He spent the summer after his first year at Holland Bloorview Kids Rehab Hospital, doing research under the supervision of Dr. Azadeh Kushki (BME). After his second year, Gierlach joined the Neuron to Brain Lab at Toronto Western Hospital, headed by Dr. Taufik Valiante.
"We developed a microelectrode neural interface testbench, enabling the development and validation of next-generation implantable smart medical devices," says Gierlach.
Such devices monitor electrical activity in the brain and, using smart algorithms, provide corresponding electrical stimulation. They could one day be used to prevent seizures or offer new treatments for conditions such as epilepsy, Parkinson's and dementia.
After his third year, Gierlach worked in the Koch Institute for Integrative Cancer Research at MIT, a position he landed through U of T's Professional Experience Year Co-op program. There, he designed electronic devices that can travel through the human digestive system, non-invasively gathering data that can be used to diagnose gastric disorders.
Gierlach is currently in an internship with Apple working with the Health Sensing Hardware team. In September, he'll head back to MIT to begin a PhD program.
"I made so many great connections and explored various opportunities," says Gierlach. "The U of T community is warm and friendly, and there's always a helping hand to provide new insights or connect you with someone who can."
Gierlach has always been keen to pay it forward: he was a TA for APS100 Orientation to Engineering, a course that helps first-year students make the transition to university. He also mentored fellow students through the GEARS program and served as an ECE Ambassador.
"I loved being one of the first faces welcoming prospective students into our amazing community," he says. "I want to give everyone the tools they need to succeed, and it makes my very happy to see students thrive and find their path."
Gierlach thanks…

"I would like to thank my amazing research supervisors throughout the years: Professors Azadeh Kushki (BME), Taufik Valiante (Max Planck – University of Toronto Center for Neural Science and Technology) and Giovanni Traverso.  Under their leadership and guidance, they enabled me to have an impact in the biomedical community and deepen my passion for biomedical research."
Read about all 14 Grads to Watch in the original story on U of T Engineering News.
With files from Matthew Tierney
More information:
Jessica MacInnis
External Relations Manager
The Edward S. Rogers Sr. Department of Electrical & Computer Engineering
416-978-7997; jessica.macinnis@utoronto.ca