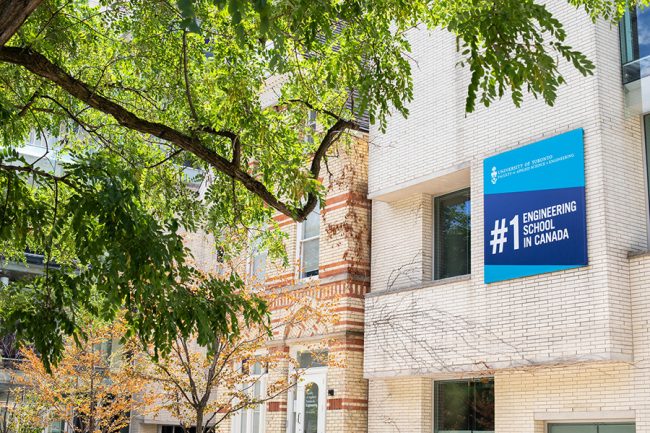 APRIL 27, 2022 • By Carolyn Farrell
Fourteen U of T Engineering faculty members and staff have been honoured for their outstanding contributions to the Faculty with teaching, research and administrative staff awards. These awards recognize exceptional faculty and staff members for their leadership, citizenship, innovation and contributions to the Faculty's teaching, service and research missions.
"As we navigate our way through — and out of — the pandemic and toward an uncharted future, our innovative engineering faculty and staff continue to meet and overcome each and every challenge we face. They are setting a world-class standard across our research, teaching and administrative operations," says Dean Christopher Yip. "On behalf of the Faculty, I extend my warmest congratulations to the awardees and my heartfelt thanks to all our faculty and staff members for their hard work, resilience, creativity,  tenacity and dedication."
"Such wonderful news to see three ECE members recognized this year for their contributions," says Professor Deepa Kundur, Chair of ECE. "Jess MacInnis, Professor Andreas Moshovos and Professor Stephen Brown are vital to the department's successes and a shining example of the excellence we strive for. Congratulations to all."
The three award recipients from ECE are:
Administrative Staff Awards
Harpreet Dhariwal Emerging Leader Award
Recognizing a staff member who leads by example in their dedication to the Faculty's mission and demonstrates potential to assume a more senior leadership role.
Jessica MacInnis joined ECE in 2016 and has served as ECE's External Relations Manager since 2019. She has increased ECE's reach and engagement with the engineering community by promoting the accomplishments of faculty, students and alumni and by working to build an extensive network of alumni, many of whom give back to the department as volunteers and donors. Since she joined ECE, major gifts to the department have tripled, partly due to these relationship-building efforts.
MacInnis has also worked to promote EDI within ECE and the Faculty; for example, she created a focused recruitment effort for ECE, helping the department to significantly increase female enrolment. In 2021 she was a founding member of the EDI in Alumni Relations working group and, with her cofounders, put together a preliminary plan for addressing the recommendations of the Anti-Black Racism Task Force Report through the lens of alumni relations.
Beyond U of T, she serves as co-chair of the ECE Department Heads Association Communicators Group, a network of communications professionals from ECE departments across North America. She is also a member of their editorial board.
Professor Andreas Moshovos
Safwat Zaky Research Leader Award
Recognizing leadership in innovative interdisciplinary and multiple-investigator initiatives that have enhanced the Faculty's research profile.
Since he joined the Faculty in 2000, Andreas Moshovos' research leadership has brought numerous benefits to ECE, the Faculty and U of T. Most significantly, in 2017 he brought together a group of 21 professors to create a research initiative focused on hardware for machine learning, known as the Computing Hardware for Emerging Sensory Applications (COHESA) network. This NSERC Strategic Network brings together academic and industry researchers with expertise spanning the entire machine learning field. Approximately half of the PIs are U of T faculty, with the others being leading academics across Canada. COHESA has attracted more than $5M in funding and trained 250+ students, researchers and postdocs, resulting in over 150 publications and 14 patents.
Under Moshovos' leadership, COHESA holds annual general meetings, bringing together academics, students and industrial partners to showcase progress, network and foster further collaboration. His efforts have put the University of Toronto at the centre of a nationwide collaborative effort to advance the tech ecosystem in Canada and globally.
Faculty Teaching Award
Recognizing a faculty member who demonstrates outstanding classroom instruction and develops innovative teaching methods.
Since joining ECE in 1992, Stephen Brown has brought remarkable energy, ideas and vision to his teaching. He has received eight departmental teaching awards, garnering the first in his inaugural year of teaching and has achieved consistently outstanding course evaluations over his career. Brown recently completely overhauled a large, mandatory course, ECE243: Computer Organization.
He received departmental teaching awards for the past three years for this new course and in 2020 was awarded the Gordon R. Slemon Award for Excellence in the Teaching of Design for his related laboratory exercises. Brown is able to present complex material in an intuitive yet thorough way and he has applied his extensive academic and industrial experience to connect course material to cutting-edge research.
He has also had a significant impact on engineering education beyond U of T. He is co-author of the textbook Fundamentals of Digital Logic, which has been a market leader for 20 years and is available in seven editions in several languages. Brown is also Director of FPGA University Programs at Intel Corporation, overseeing a program that has reached more than one million students in universities around the world.
Read about all award recipients in story from U of T Engineering News.
With files from Matthew Tierney
For more information:
Jessica MacInnis
External Relations Manager
The Edward S. Rogers Sr. Department of Electrical & Computer Engineering
416-978-7997 | jessica.macinnis@utoronto.ca