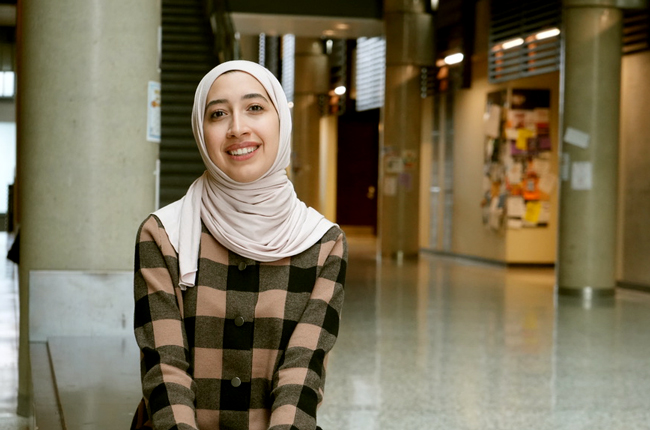 NOVEMBER 9, 2022 • By Matthew Tierney
For Hadeel Elayan (ECE PhD candidate), the proteins in our body can act like tiny antennas, capable of receiving and responding to an electromagnetic signal. Her research into this phenomenon and its potential to diagnose and treat disease has landed her a spot in a prestigious international academic career workshop.
The workshop, called 'Rising Stars,' was founded a decade ago at MIT and is hosted this year by the University of Texas at Austin.  It brings together people from underrepresented genders in the electrical engineering and computer science fields for academic career preparation and idea-sharing. Participants attend intensive sessions on the job search process in academia, share their research ideas and establish professional networks.
"Sometimes people think the challenges as a woman in these fields are exaggerated — but no," says Elayan. "When you go into the details, the academic pressure, the academic output, in an environment which is male-dominated, it's not an easy journey."
Elayan's research lies at the intersection of biology, wireless communications and electronics. It also incorporates recent developments in nanodevices, with applications in wearables, drug delivery and medical diagnostics.
Her work focuses on the submillimetre radiation of terahertz waves, a frequency band once referred to as 'no-man's land' for its lack of commercial and technological functions. Terahertz waves have their difficulties — their transmission distance is limited because they are absorbed by atmospheric gases — but they are non-ionizing radiation and suitable for biological contexts.
Her breakthrough came when she asked herself: do both the sender and receiver in a communication loop need to be electromagnetic devices?
"To reduce the complexity of the system, why not make the receiver something from the environment that's being investigated," she says. "Here I thought of proteins, because they vibrate at terahertz frequencies."
Our bodies have tens of thousands of different kinds of proteins, complex molecules whose tasks range from structural to transportive to catalytic, among others. Proteins are composed of a long chain of amino acids which folds up to create the shape that enables its function. Even after that, many can twist or contort or be induced to refold into new shapes.
In Elayan's theory, a nanoantenna could direct a signal to a targeted area of the body, and the proteins in that area would respond by vibrating or changing shape.
"A change in state means that there is an output, an information gain," says Elayan. "This idea of having efficient information flow from outside to inside, with minimal losses, can happen.
"It's like talking to proteins."
Elayan says that targeted signals could be used to influence the shape of certain proteins, for example, to correct a defect.
"Many neuroscientists believe that misfolded proteins are related to neurodegenerative diseases, like Alzheimer's and Parkinson's," says Elayan.
"It's possible that if terahertz waves encountered misfolded proteins, they could influence the kinetic rates of those proteins and perhaps induce them to fold properly."
Elayan is currently working with a team in Northeastern University on protein-mediated interactions, specifically for applications in the brain.
"We're incredibly impressed with the work Hadeel is doing," says Professor Deepa Kundur, Chair of ECE. "She has brought creativity and flair to an emerging and exciting multidisciplinary field, laying the groundwork for a range of experiments."
Elayan is in the final year of her PhD and is co-supervised by ECE Professor Ravi Adve and York University's Professor Andrew Eckford. Adve remembers the email he received just after she heard of the workshop selection.
"She was incredibly excited and deservedly so," he says. "The Rising Stars is a major recognition and this will give her, and her research, a significant boost. I expect Hadeel will have a remarkable career in academia. She has the talent, drive and inherent curiosity to succeed."
Elayan says, "Whenever I see a woman who has gone from a postdoc or PhD to assistant professorship, I'm super happy. I look her up online and start reading about her work."
It may not be long until Elayan herself inspires such a search in a new generation of researchers.
For more information:
Jessica MacInnis
External Relations Manager
The Edward S. Rogers Sr. Department of Electrical & Computer Engineering
416-978-7997 | jessica.macinnis@utoronto.ca