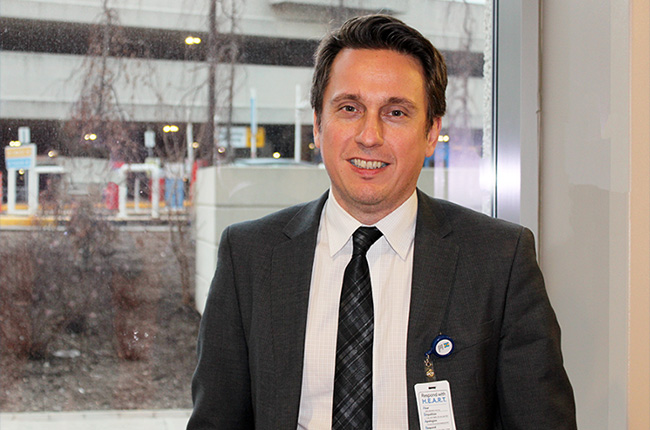 SEPTEMBER 6, 2022 • By Carolyn Farrell
Professor Ervin Sejdić (ECE) has been elected to the 2022 cohort of the Royal Society of Canada's College of New Scholars, Artists and Scientists. Established in 2014, the College is the country's first national system of multidisciplinary recognition for the new generation of Canadian intellectual leadership.
Sejdić is a leader in the fields of biomedical devices and the application of artificial intelligence (AI) techniques, such as machine learning, to biomedical research. 
AI and machine learning offer the ability to sift through large datasets to understand the markers of disease. One example is a series of medical approaches developed by Sejdić and his team that analyze signals from wearable devices to assess two important physical functions: swallowing and gait. The goal is to alleviate functional losses in these areas that are caused by aging or neurological disorders such as stroke.
"Professor Sejdić has shown great dedication and resourcefulness in his pursuit of biomedical engineering solutions to help people," says ECE Chair Professor Deepa Kundur. "He becomes even more undeterred when a problem reveals itself to be more complex than originally thought, as often happens in health care. The Royal Society has elected a beacon of our profession, and it brings me and the department great pride to see him celebrated this way."
After completing his postdoctoral fellowship in rehabilitation engineering at U of T and Holland Bloorview, Sejdić was a research fellow at Harvard Medical School from 2010-2011, specializing in geriatrics. He joined the University of Pittsburgh's Swanson School of Engineering as a faculty member in 2012, receiving tenure in 2017, then returned to U of T Engineering in 2021. In addition to his faculty position in ECE, he holds the research chair in AI for health outcomes at North York General Hospital.  
Sejdić's research has resulted in more than 160 journal papers and 40 conference papers, as well as several books and book chapters. He has filed 10 patents and has been awarded more than $8 million in research funding from the National Institutes of Health, the National Science Foundation, the Natural Sciences and Engineering Research Council of Canada, as well as industrial partners.
A leader in his research community, he was an area editor of IEEE Signal Processing Magazine, the highest rated journal in the field of signal processing, and editor-in-chief of Biomedical Engineering Online.
In 2016, former United States president Barack Obama presented Sejdić with the Presidential Early Career Award for Scientists and Engineers, the highest honour bestowed by the U.S. government on early career researchers. In 2017, he received the National Science Foundation CAREER Award. 
"Professor Sejdić has made exceptional strides in applying AI and machine learning to advance biomedical research," says Christopher Yip, Dean of the Faculty of Applied Science & Engineering. "He is an outstanding addition to the Royal Society of Canada's College of New Scholars, Artists and Scientists, and I congratulate him on this prestigious honour." 
For more information:
Jessica MacInnis
External Relations Manager
The Edward S. Rogers Sr. Department of Electrical & Computer Engineering
416-978-7997 | jessica.macinnis@utoronto.ca