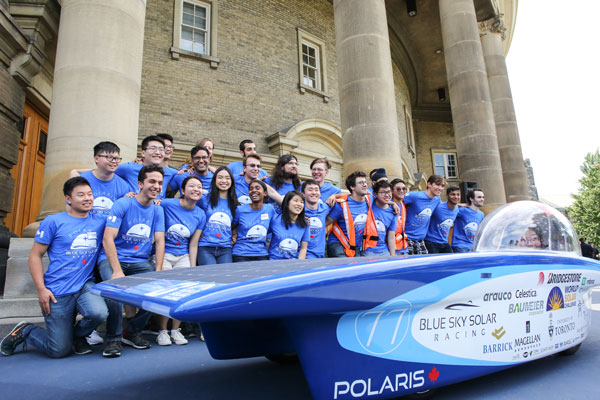 August 14, 2017
Tyler Irving
The U of T Engineering Blue Sky Solar Racing team revealed Polaris, its ninth-generation vehicle, at a showcase event held today on U of T's St. George campus.
"Polaris, the north star, has guided northern adventurers for centuries," says Blue Sky managing director Frank Gu (Year 4 ECE). "We hope that she will guide us toward a top five finish at the 2017 Bridgestone World Solar Challenge."
Gu says that the team made major upgrades to the solar, electrical and mechanical systems in preparation for the five-day, 3,000-kilometre race across the Australian Outback.
"The overall aerodynamic packaging has been preserved, including the way the shell adds to its structural strength," says Gu. "And of course it has four wheels and a similar mechanical layout. But everything else, inside and out, is new."
This includes state-of-the-art silicon solar cells, manufactured by industry partner Sun Power, that achieve greater than 24 per cent efficiency. It also includes new lithium-ion batteries and a new brushless DC electric motor, replacing the previous models which were ten years old.
"With this motor, the magnetics actually slide in and out, similar to how a gearshift works on a car," says Gu. "It allows for us to adapt to different situations: high-efficiency cruising, climbing hills or overtaking our competitors."
Gu has been running the Blue Sky Solar Racing team for two years, taking over just after the previous World Solar Challenge in 2015, where he was part of the crew. Managing a team of up to 100 team members in addition to his own studies has been a real challenge, but Gu takes it in stride.
"Every day there is a list of things I need to do, and I just keep doing it," he said.
Blue Sky Solar Racing remains the only Canadian team of more than 40 in the competition, including groups from the United States, Japan, Germany, the Netherlands, Singapore, Australia and many other countries. The U of T team placed 12th in the 2015 competition and 8th in 2013. Last year, they placed third in the American Solar Challenge, an eight-day race covering more than 3,000 kilometres through the American Midwest.
This year, the team's goal is to crack the top five. "Everything that we've done so far, every design decision, every aspect of the car that's been worked on, has been done with that objective in mind," says Gu.
The project hasn't been without its challenges: for example, the recent political turmoil in Qatar affected the logistics of shipping the vehicle to Australia for the race. But Gu says that's part of why he signed up in the first place.
"Managing a team like this gives you a really good understanding of how to make things flow in the world, how to manage people and how to make a business run," he says. "That's better than any business course you could take."
This story originally appeared on U of T Engineering News.
More information:
Jessica MacInnis
Senior Communications Officer
The Edward S. Rogers Sr. Department of Electrical & Computer Engineering
416-978-7997; jessica.macinnis@utoronto.ca