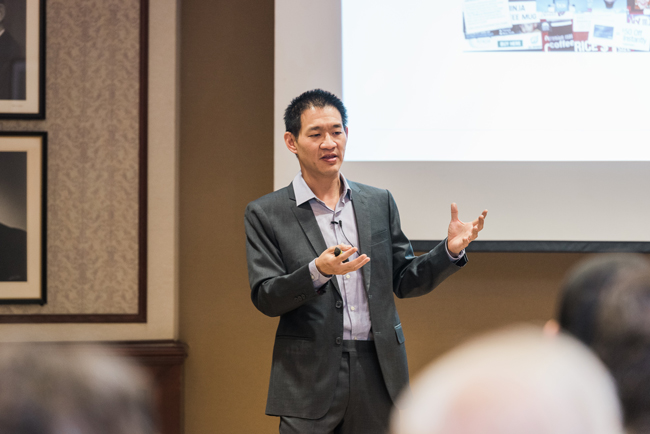 OCTOBER 12, 2022 • By Matthew Tierney
ECE Professor David Lie is collaborating with researchers from across Canada to develop edge computing solutions to address defence and security challenges.
The project — A Platform for Secure and Dependable Hierarchical Edge Processing on 5G — has received $1.5 million in funding over three years from Canada's Department of National Defence (DND).
Edge computing refers to the processing of data near its originating source, not in distant servers. The project proposes a hierarchy of data centres that provides computation and storage at the peripheries, shifting from a country level all the way down to a neighbourhood level. The strategy aims to mitigate the high latency of cloud-based applications caused by limited internet bandwidth.
"Imagine you're trying to run an intelligent transportation system, where vehicles are sending and receiving large amounts of data to the cloud in real time," says Lie. "Today, the cloud's architecture means there's some distance between the servers and the vehicles. Even at the speed of an electron, there are processing delays, and that makes a difference when you're dealing with a moving vehicle. Edge computing can reduce those delays."
As part of its Innovation for Defence Excellence and Security (IDEaS) Program, DND is supporting the creation of 'micro-nets' — self-organized multidisciplinary teams of at least three eligible organizations/institutions who carry out interdisciplinary research on aspects of a science and technology challenge of common interest.
The team includes U of T professors David Lie (ECE, cross-appointed to Computer Science) and Eyal de Lara, Chair of Computer Science, as well as Oana Balmau of the School of Computer Science at McGill University, Julien Gascon-Samson of the Software and IT Engineering Department at ÉTS Montréal / University of Québec, and Aastha Mehta of the Department of Computer Science at the University of British Columbia.
Together, they will design a new platform based on localized data centres situated near the field of use. The idea is that these centres would better deliver reliable, predictable and secure performance for future high-performance applications.
The micro-net's research findings will be made available to Canadian researchers and engineers as technical papers and open-source software.
For all its promise, an edge computing solution presents difficult technical challenges. The breadth and strength of the pan-Canadian team of Computer Science researchers reflects this, says Lie.
"The proposed micro-net requires fundamental research. Each member of the team brings different perspectives, skill sets and experience to the table. It truly is a collaborative effort."
Professor Deepa Kundur, Chair of ECE, sees the collaboration as indicative of Canada's computer engineering excellence.
"From coast to coast, we have the research minds to stand with the world's best," she says. "At ECE we are proud to work within this larger community to advance Canadian engineering solutions."
With files from Matt Hintsa
For more information:
Jessica MacInnis
External Relations Manager
The Edward S. Rogers Sr. Department of Electrical & Computer Engineering
416-978-7997 | jessica.macinnis@utoronto.ca