June 25, 2013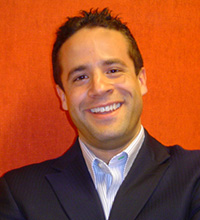 Michael Branch, an alumnus of the Edward S. Rogers Sr. Department of Electrical & Computer Engineering, is being recognized by the Ontario Society of Professional Engineers (OSPE) and Professional Engineers Ontario (PEO) with a Young Engineer Award. The Ontario Professional Engineers Awards recognize engineering excellence and community service.
Branch is the founder and CEO of Inovex Inc., a web and mobile software firm specializing in products and services for the healthcare and energy sectors. He has been instrumental in developing Inovex's lineup of secure healthcare data collection and decision-making tools for physicians and public health policy drivers in Ontario. A committed volunteer within and outside the engineering community, Branch is currently the President of the University of Toronto Engineering Alumni Association. He also serves as a Board Member of Streetwise Actors and a member of the Haltech Regional Innovation Centre.
Branch is one of five members of the U of T Engineering community receiving Ontario Professional Engineers Awards this year, of the 11 total being conferred. Professor Stavros Aryropoulos (MSE) has been awarded a Research and Development Medal. Alumnus Carlos de Oliveira (CivE MASc 0T6) garnered the Entrepreneurship Medal. Anthony (Tony) Pasteris, President of Minerva Canada (a valued partner to the Faculty in safety education), received the Citizenship Award. Professor Michael Sefton (ChemE, IBBME) is this year's recipient of the Gold Medal, Ontario's most prestigious engineering honour.
"I am delighted that OSPE and PEO have recognized these outstanding members of our community for their accomplishments, their leadership and their service", said Cristina Amon, dean of the Faculty of Applied Science & Engineering. "On behalf of the Faculty I offer my heartfelt congratulations and my thanks for their exemplary contributions to the engineering profession."
The Ontario Professional Engineers Awards recipients will be honoured at a gala at the Toronto Congress Centre on November 23, 2013.
With files from Carolyn Farrell
Media contact:
Marit Mitchell
Senior Communications Officer
The Edward S. Rogers Sr. Department of
Electrical & Computer Engineering
416-978-7997; marit.mitchell@utoronto.ca