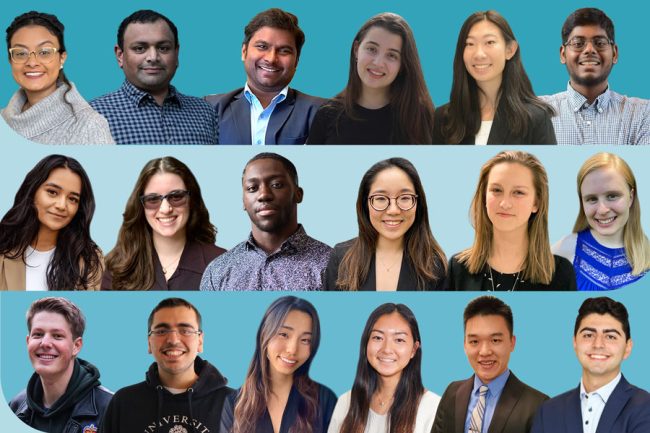 MARCH 27, 2023 • By Heather Finley
Another cohort of outstanding students from across the Faculty has been presented with the U of T Student Leadership Awards.
In 2023, 18 U of T Engineering students earned the honour, which recognizes leadership, service and commitment to the university. Their diverse activities include heading up co-curricular organizations such as You're Next Career Network, leading groups such as the Human Powered Vehicles Design Team, participating in varsity athletics, and leading a financial literacy club. They are joined by 166 students from other Faculties across U of T.
The University of Toronto Student Leadership Award continues a long-standing tradition which began with the Gordon Cressy Student Leadership Award, established in 1994 by the University of Toronto Alumni Association in honour of Mr. Gordon Cressy, former Vice-President, Development and University Relations. During the award's 25-year history, it celebrated the exemplary contributions of more than 4,000 students whose commitment and service had a lasting impact on their peers and the university.
U of T Engineering will celebrate this year's UTSLA recipients on April 26 at the Faculty Club hosted by the U of T Engineering Office of Advancement.
"One of the things that make our educational experience so unique is the rich suite of co-curricular and extracurricular activities we offer — and none of this would be possible without our student leaders," says Christopher Yip, Dean of U of T Engineering.
"They chair conferences, design and lead outreach activities, run competitive design teams and engage in the governance of our Faculty and our University. The skills they have gained will serve them well as they take their place among the next generation of global engineering leaders."
The 2023 UTSLA recipients are:
Praveen Siluvai Antony (CivE PhD Candidate)
Maeesha Farzana Biswas (Year 4 IndE)
Michael Boyadjian (Year 4 EngSci)
Ronald Chow (BME MEng Candidate)
Karthik Ganesan (ECE MASc 1T8, PhD Candidate)
Aidan Grenville (Year 4 EngSci)
Maxwell Gyimah (Year 4 MechE)
Gehna Karani (Year 4 ChemE)
Xin Yu (Lucy) Ma (Year 4 EngSci)
Minnie Menezes (Year 4 MechE)
Rena Nakajima (Year 4 MechE)
Saskia van Beers (Year 4 EngSci)
Lauren Streitmatter (Year 4 EngSci)
Purushoth Thavendran (Year 4 ChemE)
Samantha Unger (Year 4 EngSci)
Kimberly Watada (Year 4 ChemE)
Jing Yi Wei (Year 4 MechE)
Yazan Zamel (Year 4 EngSci)
"The ECE department puts great stock in driving positive change in the profession, and we encourage students who have capacity to make an impact beyond the curriculum," says ECE Chair Professor Deepa Kundur. "I'm thrilled to see Karthik Ganesan win this award and enter the ranks of future leaders of the profession."
For more information:
Jessica MacInnis
External Relations Manager
The Edward S. Rogers Sr. Department of Electrical & Computer Engineering
416-978-7997 | jessica.macinnis@utoronto.ca