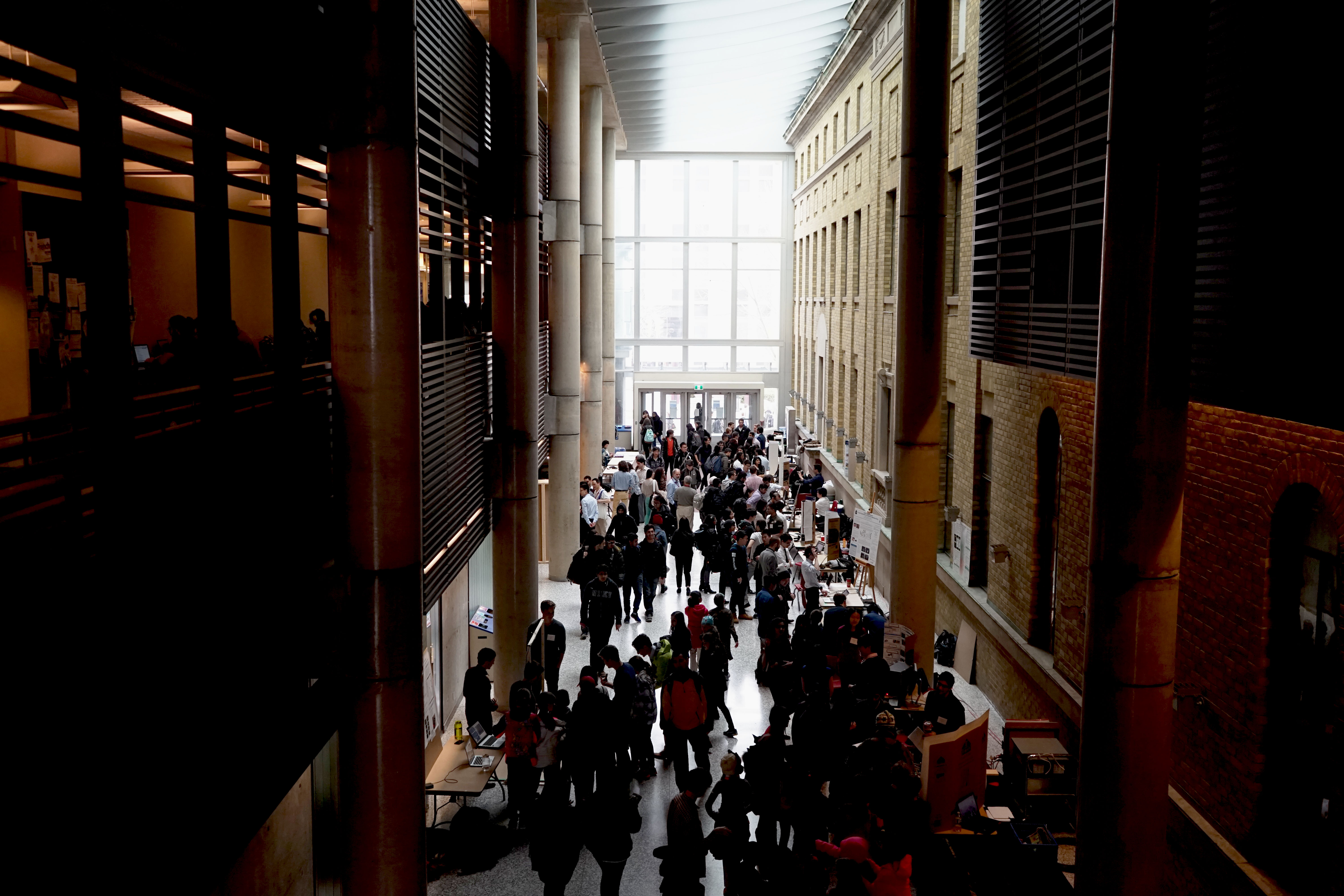 April 8, 2016
Optimizing power plants, designing a virtual city for the treatment of schizophrenia patients, developing an app to connect home cooks with customers: graduating electrical and computer engineering students spent two semesters finding real-world solutions to real-world problems.
Students showcased their work at The Edward S. Rogers Sr. Department of Electrical & Computer Engineering annual Design Fair week from March 29 to March 31, 2016. Teams representing the strongest projects were featured in a Showcase on Friday, April 1. Covering a wide breadth of engineering challenges, students worked in teams to identify issues and develop solutions.
Students Aditi Kumaraswamy (CompE 1T5+PEY), Sujieth Kulendran (ElecE 1T5+PEY) and Anthony Kwan (CompE 1T5+PEY) consulted with the CNIB to develop a navigation aid for the visually impaired, called NAVI, which uses ultrasound and LIDAR to identify and indicate hazards that existing navigation aids may not.
"We learned about user interfaces and the power of simplicity in design," said Kumaraswamy. "This project allowed us to incorporate human factors in our planning, including the input we received from the CNIB and an individual living with vision loss."
Friday's Showcase featured 14 of the strongest projects from the Design Fair as determined by ECE professors. The central atrium of the Bahen Centre for Information Technology was packed with faculty, University of Toronto students, and a local Grade 4 class, who learned how technology and engineering can answer questions and provide solutions to common problems.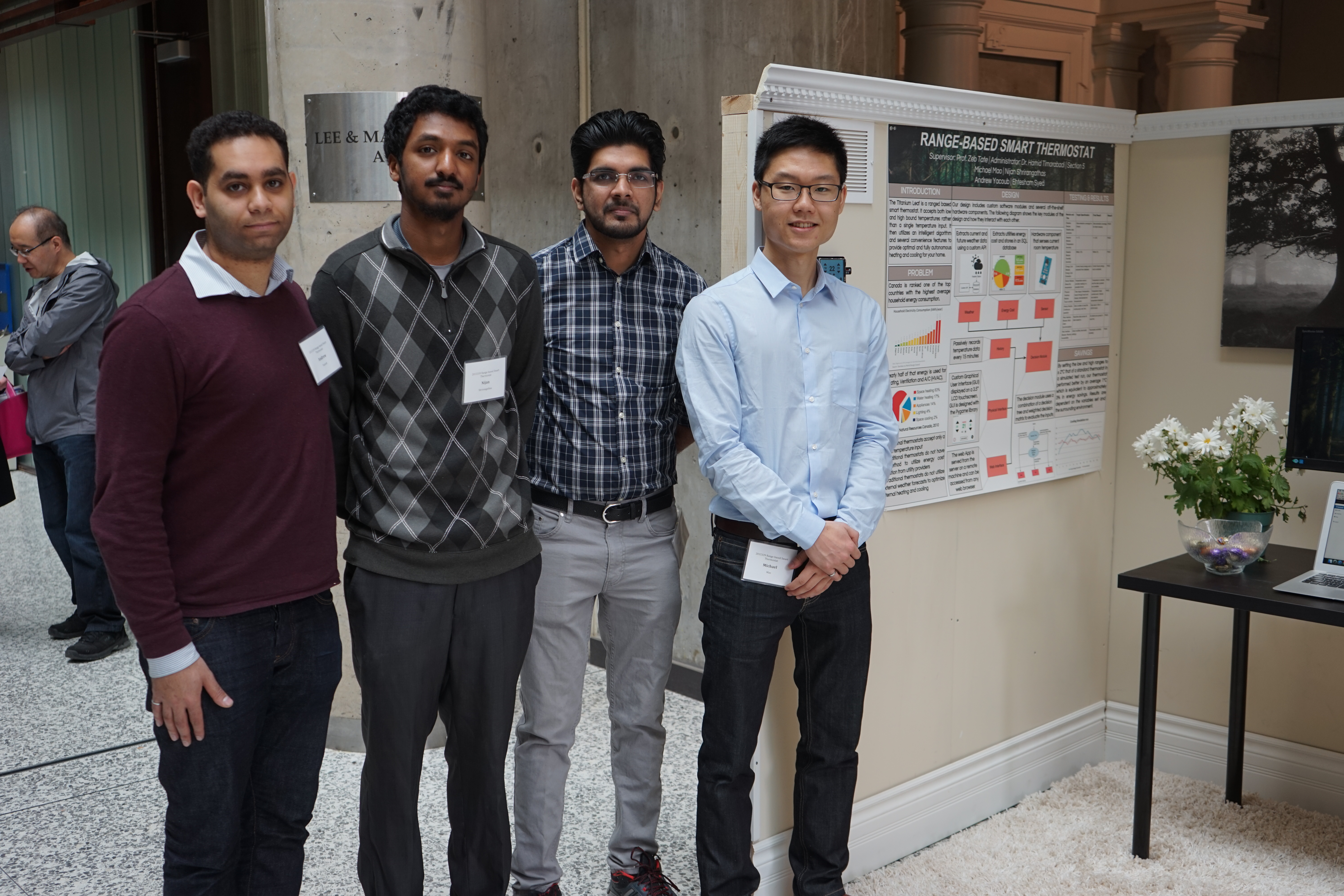 Nijan Shrirangathas, Ehtesham Syed (both ElecE and 1T5+PEY), Andrew Yacoub and Michael Mao (both CompE 1T5+PEY) are the students behind Titanium Leaf, a range based smart thermostat. They demonstrated their fully working prototype that offers both cost and energy savings to potential users. "We were able to integrate both software and hardware so that users could set a temperature range within their comfort zone on the thermostat's touchscreen or remotely through the web app. The thermostat runs autonomously while extracting and incorporating current and future weather forecasts, utility energy costs and past temperature preferences," said Yacoub. "With current thermostats you can only set one temperature and users don't have the flexibility that could help them save money and energy."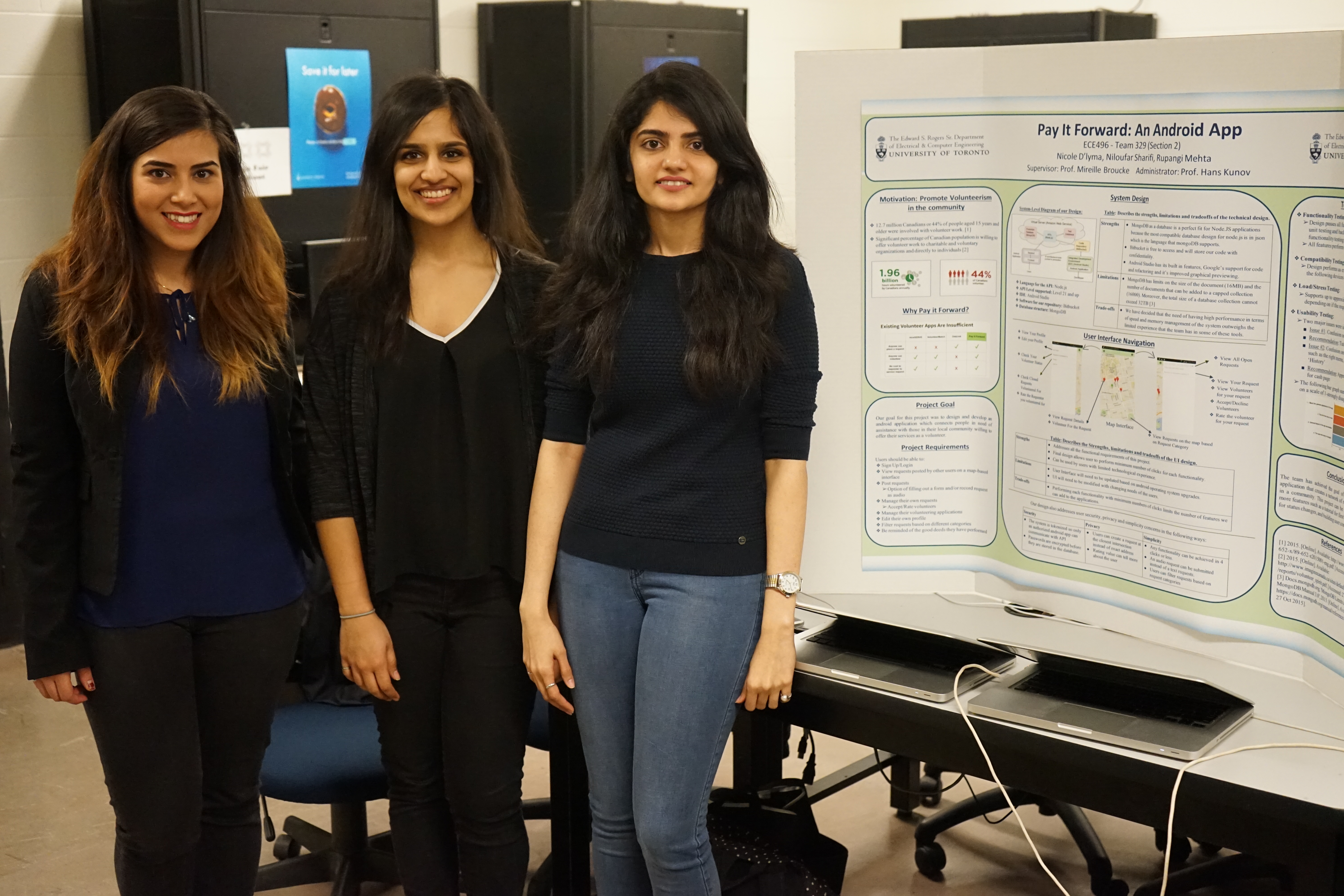 Volunteerism in the community has long been a pillar of a vibrant civil society. But how do we foster and facilitate grassroots volunteerism on an individual basis? Students Nicole D'Lyma (ElecE 1T5+PEY), Rupangi Mehta and Niloufar Sharifi-Babaki (both CompE 1T5+PEY) have created an app to do just that.
The group designed and developed an Android app to connect individuals in need with volunteers who can offer their services. "This project allowed us the opportunity to code in groups, helping us to learn from each other and build on each other's strengths," said Sharifi-Babaki. "Most importantly it meant we had an opportunity to be creative."
"This project allows graduating engineering students to come together in teams to propose and implement solutions for practical problems," said Professor Philip Anderson, the course coordinator. "The Showcase and Design Fair give opportunity to share these achievements, to inspire tomorrow's engineers, to validate the designs and, for many, to springboard their accomplishments into new companies and new widespread technological achievements. They always do us proud."
See and save pictures from the Design Fair and final Design Showcase
See and save pictures from the Fourth-Year & Alumni Celebration following the Design Showcase
More information:
Jessica MacInnis
Senior Communications Officer
The Edward S. Rogers Sr. Department of Electrical & Computer Engineering
416-978-7997; jessica.macinnis@utoronto.ca