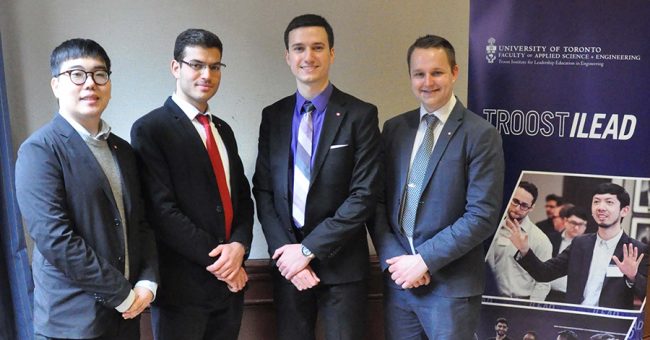 May 23, 2019
Engineering Strategic Communications
A team of U of T Engineering capstone students recently clinched the top prize at the Clarke Prize Finale for developing a non-contact braking system for commercial aircraft.
The Clarke Prize is named after alumnus Richard Morel Clarke (ChemE 5T4), who established the awards to recognize capstone design teams that demonstrate excellence in engineering design, leadership, teamwork and environmental impact assessment. Hosted by the Troost Institute for Leadership Education in Engineering (Troost ILead), the Clarke Prize provides up to $25,000 per year for awards to student teams— $10,000 for first place, $5,000 for second place and four $2,500 subcategory prizes.
Fourth-year ECE student Jiwoo Kim and his teammates, Mark Chaboryk (MechE), Tareq Deaibes (MechE) and Nikola Kostic (MechE) won first place for designing a non-contact braking system that can be readily implemented in current landing gears, generating significant savings in brake maintenance. The team has applied for a patent, while their industry collaborator, Safran Landing Systems, is keen to do further development.
"This award is the culmination of painstaking work by our team, as well as everything we've learned over the last four years at U of T Engineering," says Kostic. "The Clarke Prize is a reminder of our responsibility as engineers to society and the environment. It also inspires us to ensure sustainability remains core to our work as engineers in the future."
"The team demonstrated a remarkable level of understanding of the engineering and physics of the problem and undertook a very impressive modelling of designs," said project supervisor Professor Jan Spelt (MIE).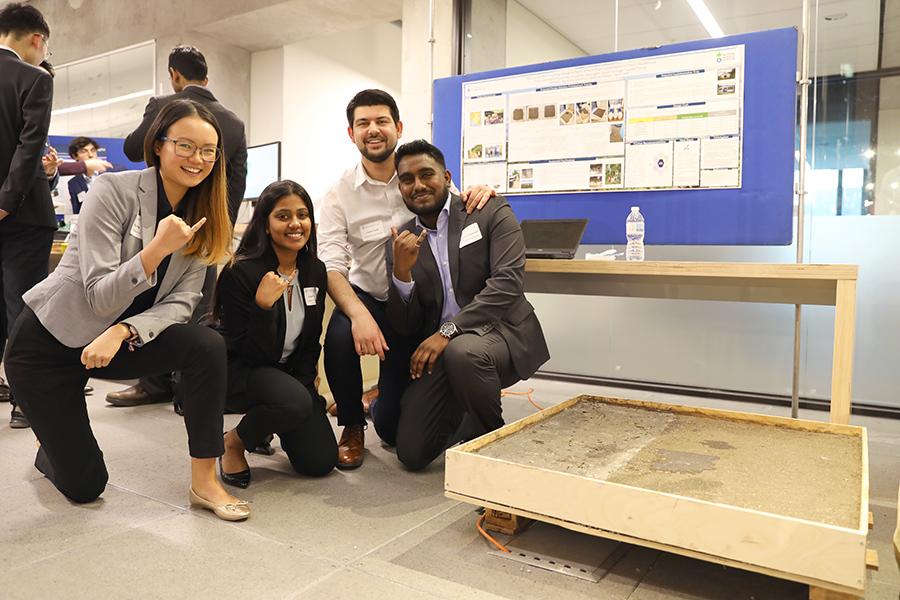 Team members Sayuri Guruge (MSE), Jonathan Jeyarajah (MechE), Flavia Ng (CivE) and Tayyeb Zarabi (MechE) won second place for their design project, which aims to reduce exposure to contaminated soil flooring in Guatamalan Indigenous communities.
The event's judging was led by U of T alumna Sandra Odendahl (Chem MASc 8T9), CEO of CMC Research Institutes. "I'm always excited to return to my alma mater, and a lot of that excitement comes from listening and interacting with the next generation of engineering leaders," she says.
"I'm so impressed by the calibre of our U of T Engineering students, and delighted to see how much they care about making a positive impact on the world. I was honoured to be a judge for the Clarke Prize Finale."
Both teams also won subcategory prizes for engineering design and teamwork respectively.
This story originally appeared on U of T Engineering News.
More information:
Jessica MacInnis
Senior Communications Officer
The Edward S. Rogers Sr. Department of Electrical & Computer Engineering
416-978-7997; jessica.macinnis@utoronto.ca