Oct. 24, 2013
Alumni of University of Toronto's Faculty of Applied Science & Engineering gathered at BizSkule Tuesday to meet, mingle and mull the evening's theme, "Moving @ the Speed of Mobile." Attendees heard from a panel of experts on the new frontier of mobile app development.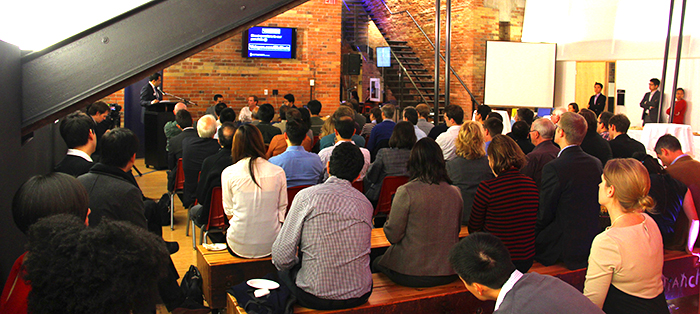 Arshia Tabrizi (CompE 9T5) was the evening's master of ceremonies, deftly leading the discussion and integrating questions curated from an online audience and those in the room. The evening's expert panel featured:
Parham Aarabi (EngSci 9T8), a professor in The Edward S. Rogers Sr. Department of Electrical & Computer Engineering and founder of beauty app company ModiFace Inc., named one of North America's fastest-growing companies this year by Inc. Magazine; Geordie Konrad (EngSci 0T7), co-founder of the Konrad Group, serving clients like MTV, Nestle and Staples from offices in Toronto, New York and Chicago; and Sep Seyedi (EngSci 0T3), co-founder of Plastic Mobile, leading mobile initiatives for companies like Rogers, City TV, Canadian Business, Axe, CBC and Fairmont.
Discussion topics ranged from how to monetize and market, to the strengths of HTML5 versus developing native apps for various operating systems. On the latter topic, guest speaker Bob Vaez (CompE 0T2) was seamlessly incorporated into the discussion via a video response on Vidoyen, Tabrizi's new venture that provides expert answers to curated questions.
Asked whether the days of paying for apps are numbered, the panellists weighed in on different strategies for monetization. "Certainly the competition is fierce," said Aarabi. "But if you build good apps, they can be found and you can build a successful business out of that. But it's very tricky."
"Even the big guys forget that what they're building isn't just a website that can be found through SEO," said Seyedi. "Proper marketing is really important, and that's a little tougher for the smaller guys."
Gazing into their crystal balls, these three experts saw different visions for the future of mobile. "For us, photo and video is the direction to go," said Aarabi. The next step "is going to be very, very broad adoption of mobile technology," predicted Konrad. "It's not going to be about innovation, but adoption, and that's going to be big."
The next BizSkule event is in April 2014.
More information:
Marit Mitchell
Senior Communications Officer
The Edward S. Rogers Sr. Department of Electrical & Computer Engineering
416-978-7997; marit.mitchell@utoronto.ca