Passionate about conducting research in electrical or computer engineering? Considering a Master's or Doctoral degree in ECE? You won't want to miss Graduate Research Day (GRD) 2023.
GRD 2023 will showcase the exceptional graduate education and research opportunities you will find at the Department and the Faculty. It is a unique opportunity to engage with our world-renowned research community and understand what U of T's Edward S. Rogers Sr. Department of Electrical and Computer Engineering can offer you as an MASc or PhD student.
On Friday, January 27, 10 a.m.–11 a.m., we will host a Live Virtual Info Session for select applicants.
Some applicants may also have the opportunity, in early 2023, to visit U of T's beautiful downtown St. George Campus as a guest of one of our professors.
Apply today!
Submit your MASc or PhD application by January 5, 2023, for an opportunity to join us for this exclusive event and engage with our world-renowned research community. See below on how to apply.
Hadeel Elayan, PhD candidate
"At ECE, I've learned from internationally renowned researchers. I've had the opportunity to work next to top students from all different backgrounds and from all over the world. My grad years here have been an inspirational journey and pushed me to new heights. ECE at U of T was the right choice for me and I'm ready and excited to take my next step."
Read our feature on Elayan's graduate research in molecular communications.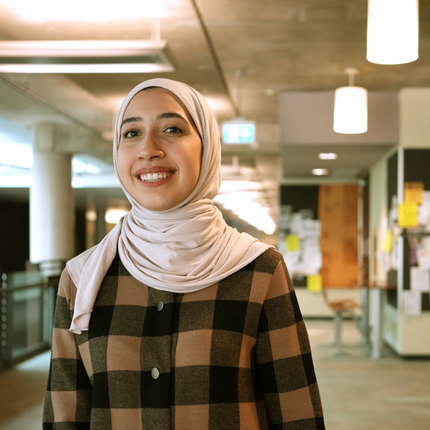 Why choose ECE at U of T?
The Faculty of Applied Science & Engineering is the top engineering school in Canada and in the top 10 among North American public universities across all major ranking systems. Globally, it is inside the top 35 for both QS and Times Higher Education (THE) World University Rankings. The Faculty:
Attracted $104.7 million in research funding in the past year
Receives the largest share of NSERC funding for engineering research in Canada
Has more than 400 industrial partners
Has a worldwide network of 50,000 alumni
Has nearly 1,700 research-focused graduate students
The ECE Department is ranked number one in Canada and a top-20 ECE department globally by the QS World University Rankings. In 2020-2021, the Department:
Had 28 NSERC and CIHR graduate student award recipients
Formed 15 spinoffs from ECE research over the past 5 years
Generated $31 million in research operating funding
Included a student inventor in 9 of 10 ECE invention disclosures
Learn more about our research-stream graduate programs and community
Diversity and inclusion
The University of Toronto, the Faculty of Applied Science & Engineering, and the Edward S. Rogers Sr. Department of Electrical & Computer Engineering are committed to increasing diversity within our community. Excellence flourishes in an environment that embraces the broadest range of people.
How to apply to GRD 2023
To be considered for GRD 2023 you must fully complete an application to ECE's MASc or PhD program by the January 5 deadline.
This event is open to domestic and international students.
Applicants selected to attend GRD 2023 will be notified by email by January 23, 2023.