What is an MEng degree?
An MEng is a course-based master's degree in electrical and computer engineering that provides students with the training and expertise needed to succeed in today's information economy.
An MEng is an internationally recognized qualification that:
Opens doors to interesting career opportunities
Expands your professional network
Increases your financial prospects
Apply before the deadline!
International students:
March 15, 2023

(for F

all 2023)

May 31, 2023

 

 (for

Winter 2024)
Domestic students:
May 31, 2023 (for F

all 2023 & Winter 2024)
Why choose ECE at U of T?
The Edward S. Rogers Sr. Department of Electrical & Computer Engineering at the University of Toronto (ECE) is part of the Faculty of Applied Science & Engineering — the number one ranked Engineering School in Canada.
At ECE, we provide an opportunity to pursue advanced studies in state-of-the-art facilities under the guidance of an internationally renowned faculty. Our size and the breadth of expertise represented across our 104 professors allows us to offer an exceptionally large and diverse array of graduate courses each year.
We also hire industry experts to teach industry-oriented courses designed specifically to meet the needs and interests of MEng students.
In addition to the general degree requirements, students have the option of completing an emphasis in one of these eight areas and/or one of the following emphases specifically tailored for MEng students:
Our current MEng-focused courses include:
ECE1779H Introduction to Cloud Computing
ECE1092H Smart Grid Case Studies
ECE1524H Service Provider Networks
ECE1783H Design Tradeoffs in Digital Systems
ECE1394H Technical Management of Modern IC Design
ECE1718H Special Topics in Computer Hardware Design: Hardware-Accelerated Digital Systems
Other course opportunities
There are also hundreds of other graduate courses offered by other departments within the Faculty of Applied Science & Engineering, including a selection of ELITE and Analytics courses, as well as across U of T in general, many of which are open to MEng students.
Finally, some students complete a research-oriented MEng project (ECE2500Y) under the supervision of one or more of our faculty.
Flexible delivery options
ECE offers three delivery options for the MEng program, part-time, full-time or extended full-time, to suit your goals and circumstances. September and January start dates are available for all delivery options.
Ravitej Rekhi, RBC Senior Manager (ECE MEng 2019)
"The biggest advantage that the MEng program at the University of Toronto offered me was the flexibility to choose the courses I wanted to, allowing me to gain a holistic and rich experience that provided me with the perfect launchpad for the career I wanted. The program is perfectly designed for students who wish to learn from the best, in the fields they want, and gives them the opportunities required to excel."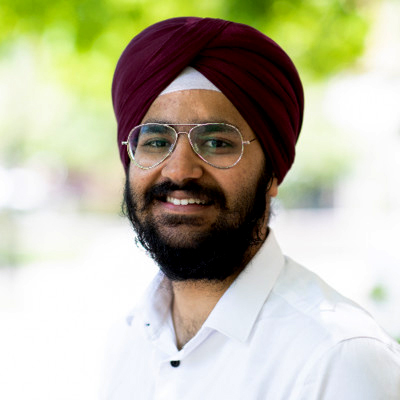 The ECE at U of T advantage
The Faculty of Applied Science & Engineering is the top engineering school in Canada and in the top 10 among North American public universities across all major ranking systems. Globally, it is inside the top 35 for both QS and Times Higher Education (THE) World University Rankings. The Faculty:
Attracted $104.7 million in research funding in the past year
Receives the largest share of NSERC funding for engineering research in Canada
Has more than 400 industrial partners
Has a worldwide network of 50,000 alumni
Has nearly 1,700 research-focused graduate students
The ECE Department is ranked number one in Canada and a top-20 ECE department globally by the QS World University Rankings. In 2020-2021, the Department:
Had 28 NSERC and CIHR graduate student award recipients
Formed 15 spinoffs from ECE research over the past 5 years
Generated $31 million in research operating funding
Included a student inventor in 9 of 10 ECE invention disclosures
Learn more about our department
Diversity and inclusion
The University of Toronto, the Faculty of Applied Science & Engineering, and the Edward S. Rogers Sr. Department of Electrical & Computer Engineering are committed to increasing diversity within our community. Excellence flourishes in an environment that embraces the broadest range of people.