EE Graduate becomes Bishop: Most Reverend Vincent Nguyen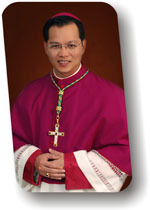 Father Vincent Hieu Nguyen was born on May 8, 1966 in Saigon, Vietnam, the sixth in a family of seven boys and two girls. He left the country in 1983 and arrived in Canada in 1984. He achieved a Bachelor of Applied Science (Electrical Engineering) from the University of Toronto in 1991.
He lived at Serra House, a formation residence for men in discernment, from 1992-1993. He entered St. Augustineís Seminary in 1993 and earned his Masters of Divinity from the University of Toronto in 1998. He was ordained to the priesthood for the Archdiocese of Toronto on May 9, 1998.
Father Nguyen served as the Associate Pastor of St. Patrickís Parish in Mississauga from 1998-2001 and as the Administrator of St. Monicaís Parish from 2001-2003. He served as Pastor of St. Ceciliaís Parish and Administrator for the Mission of the Vietnamese Martyrs from 2003-2005.
Father Nguyen continued studies in Rome and was awarded a licentiate in Canon Law from the Pontifical University of St. Thomas Aquinas (Angelicum), Rome in 2008. He returned to Toronto, appointed in August 2008 as Vice-Chancellor of Spiritual Affairs. In September 2009, he was appointed as Chancellor of Spiritual Affairs and Moderator of the Curia. Bishop Nguyenís episcopal ordination took place at St. Michael's Cathedral in Toronto on January 13, 2010.